I went back up to my hometown for the holiday weekend and squeezed a day and a half away to check in on one of my favorite rivers with Brandon. It is definitely considered the "off season" but neither one of us were concerned with that and were just anxious to have a look, poke around, and swing some flies. The possibility of a hatchery brat steelhead was there but that would have been icing on the cake.
We started the morning out early but didn't actually get onto the water until late morning. Last year Brandon had found one of our previous years' Shangri-La runs high & dry with the entire river flowing down another channel on the opposite side of the riverbed. Anxious to see the devastation, we started there.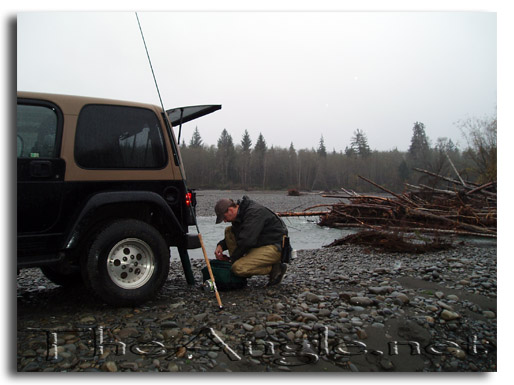 It was definitely depressing to see the run gone but at the same time it was exciting to get started exploring the "new" river for the next Shangri-La.
The first run we fished was in the lower river and the water clarity was questionable but worth a pass. While Brandon strung up his rod I took the opportunity to jump right into what looked like the fat of the run. There were a few fish rolling that we assumed were hatchery steelhead. Brandon took the upper section and we spent the next 30 – 40 minutes working through the run. Brandon was having trouble with his reel seizing up from a fall he'd taken on a previous trip. It was getting worse and as we got to the end of what appeared to be the run he decided to head back for the jeep and swap out reels. It was a 10 minute walk back and I was going to head back up with him but decided I'd continue on down some as the water continued to fish really well.
Five minutes after he'd disappeared in the streamside brush my line tightened up in the middle of the river and there was a huge boil. "No way", I remember thinking. Then came a couple of angry, heavy head-shakes, and the fish tore off down stream. Line was spewing from the reel as my marabou fly was carried off for the Pacific. Woo Hoo!!
I was fishing a new 8/9 wt spey rod that was fairly stout and this thing had it buckled into the cork as the Loop classic merrily sang away – and then suddenly silenced and seized. The fish didn't notice so off I went in panicked downstream pursuit, stumbling over rocks as I frantically picked away at the knotted-up Dacron.
I wasn't sure if I ever cleared the knot but eventually got enough line back on the reel to settle in and begin fantasizing of a 20 pound November steelhead. As I continued to regain line and the fish made its way back up river, I knew better, but what else could it be? Way too big for a Dolly. Possibly a King? Then he came to the surface and threw a bucket-load of water and all I saw were slab-sides of silver and pink. That pretty much convinced me. It really was a big steelhead. Maybe not 20 pounds, but definitely well into the teens.
I eventually beached him, and only then did I realize it. A big coho!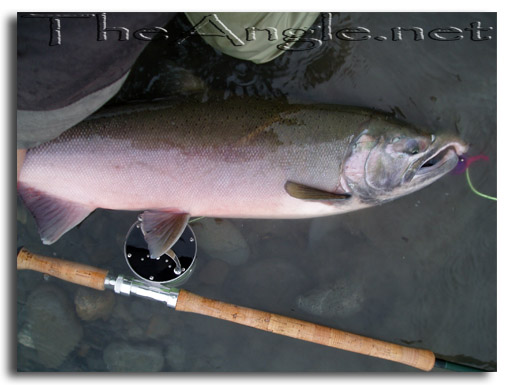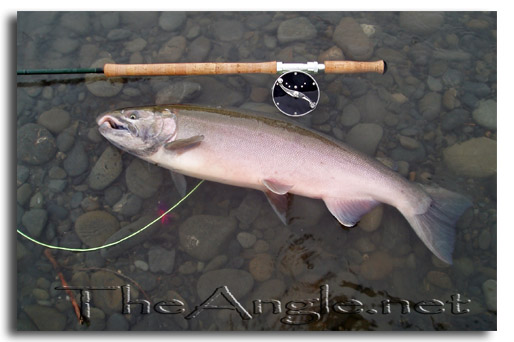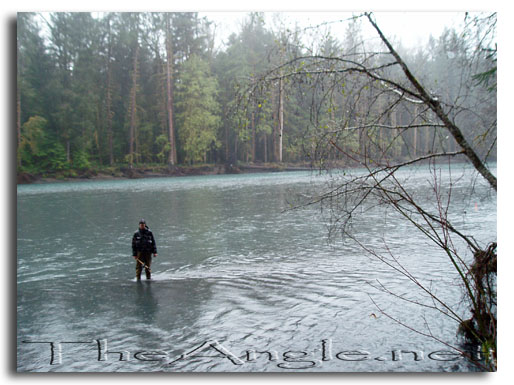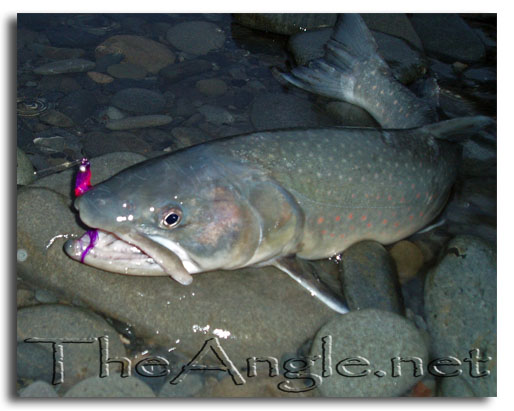 Hello Dolly!