This week's tides were some of the biggest of the year, with flood highs and minus lows.
Jeff & I headed over the hill at o-dark thirty to catch the last few hours of the early morning outgoing and see the beach at the lowest tide we'd witnessed yet.
We weren't sure what to expect from a surf-perch-catching perspective and this was the only way to find out.
Besides, it was a low-committal trip that would have both of us back home by lunch time to tend to all those annoying "responsibilities" that seem to build up over the long work-week.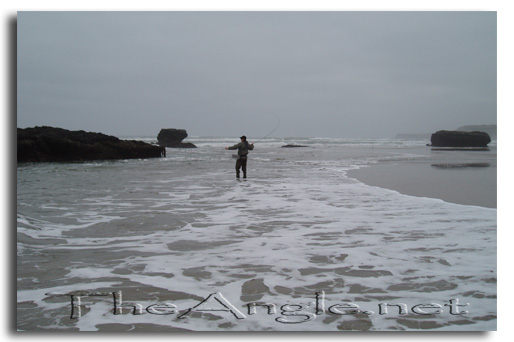 We fished our way through the grey-light hours of the early morning from one end of the beach to the other without even a bump.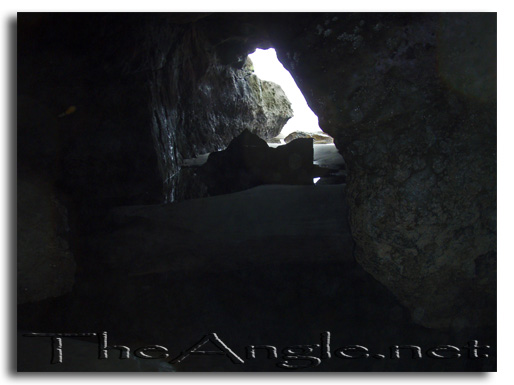 We even covered a really nice hole on the next beach over, thanks to some easy access made possible with the extreme low tide.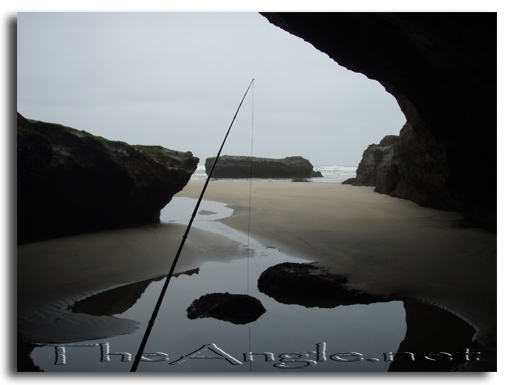 But still, no surf perch.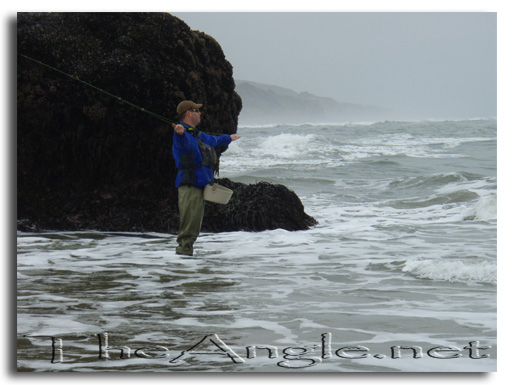 Then, just as the reality of the odorous, furry little black & white polecat really began setting in, Jeff hooks up!
It appeared to be a fairly heavy fish, at least from the deep bend in his 6wt, but it wasn't exactly ripping line off his reel. By the time I had made my way over and was getting my camera out for the fish-fighting hero shots, he had managed to work it up to the surface where suddenly, the hook pulled free… but not before we had both got a clear glimpse of a healthy set of red pincers breaking the surface!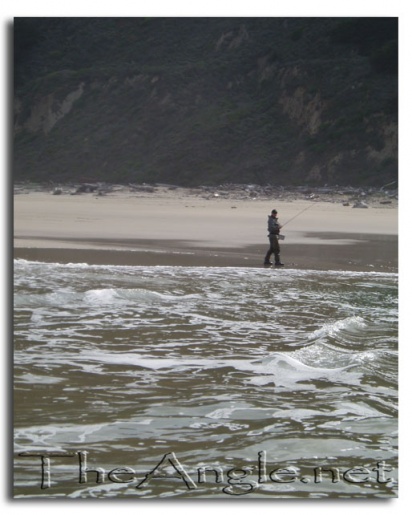 The sun finally burned through the fog and we began making our long walk back as we jokingly discussed future strategies for targeting Dungeness crab in the surf with a fly rod. "Man, it's really too bad we couldn't have got some pictures", "I know, how cool would that have been"!
We quickly hit a few more holes and rips on the way back as the tide bottomed out and once again, Jeff was hooked up! By the time I'd made it over for the hero-shots, he'd already landed it AND, this time we got some pictures!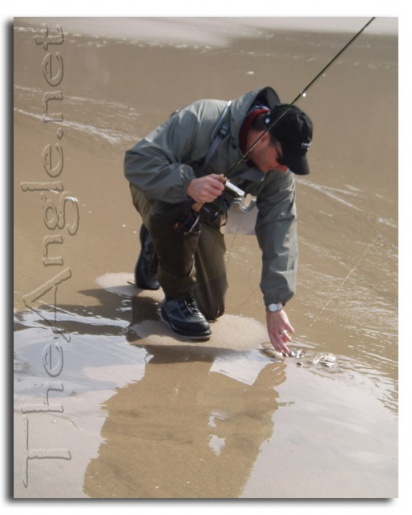 Their eagerness to bury themselves in the sand explained the severe weightiness Jeff had experienced with his earlier hook-up.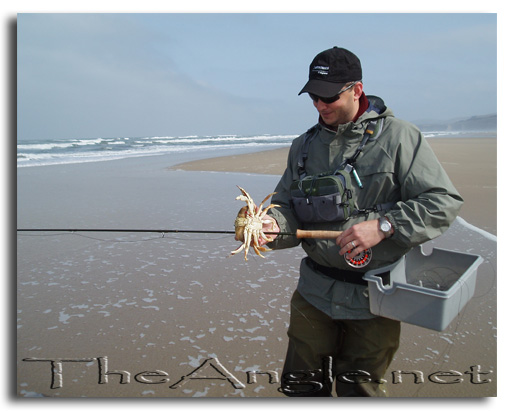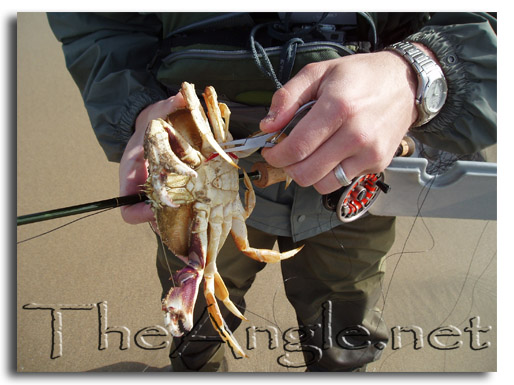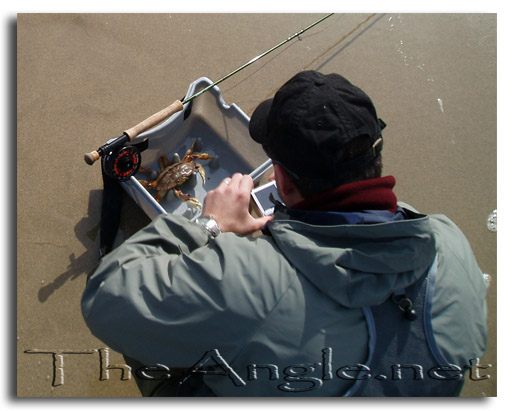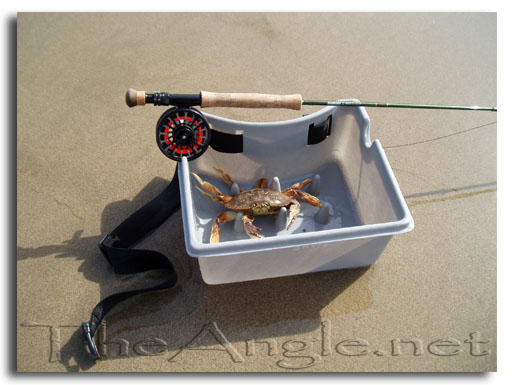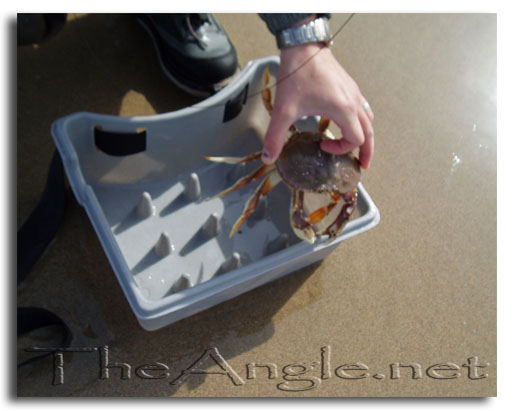 I was sure glad Jeff didn't have any problem handling him. I certainly wasn't about to get my hand anywhere near those finger crushing claws!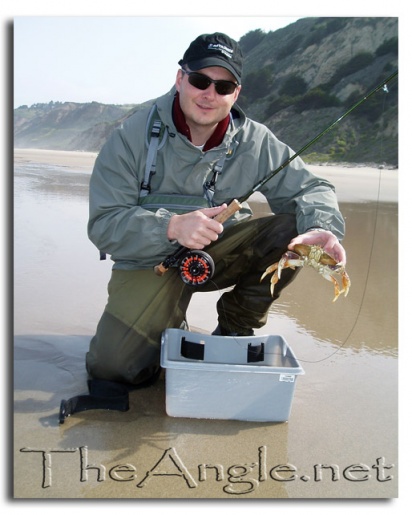 Woo Hoo, The Hero Shot!
Shortly after the photo shoot, I was hooked-up! And the head-shake-less resistance left no doubt in my mind what was at the other end.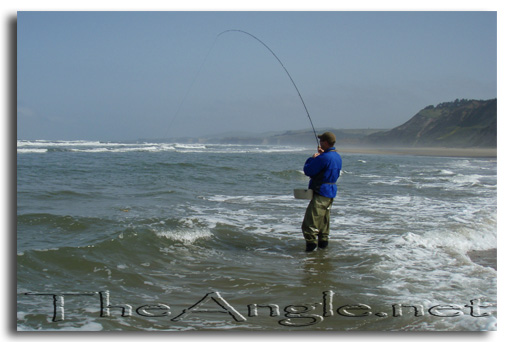 All I could think was "Crap… but I'll be danged if Jeff is getting a hero shot and I'm not".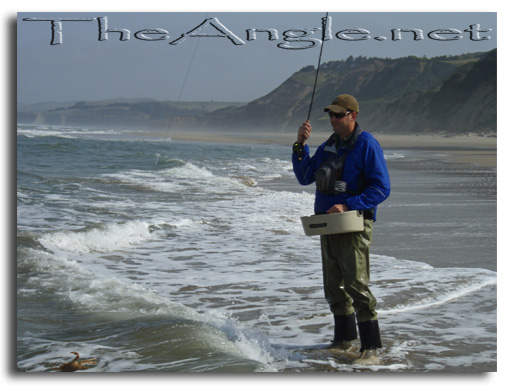 After a whole lot of patient coaching, interspersed with a few chick-ish yelps and a dejavu sensation of my first hand-caught eastern diamond back (which I'd thought I'd wised up some since), I finally managed to get my hand around him.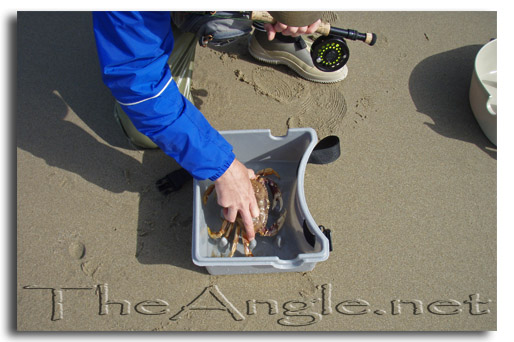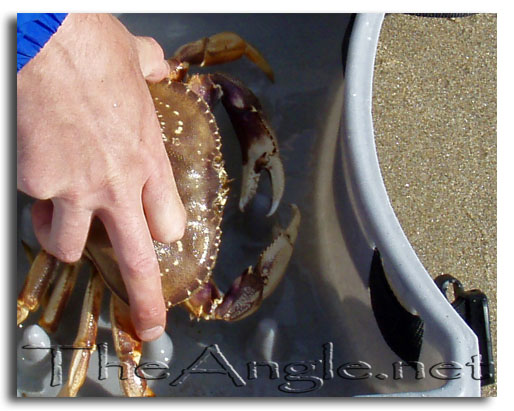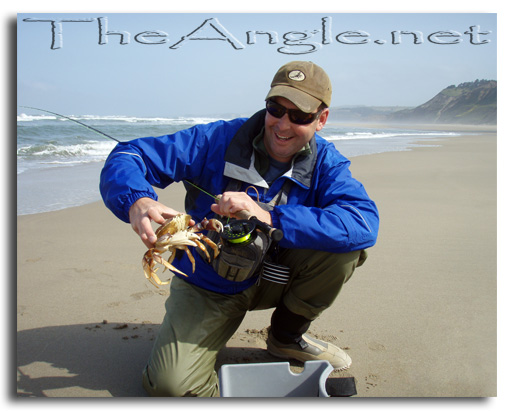 And, with fingers surprisingly still attatched to my hand… THE HERO SHOT!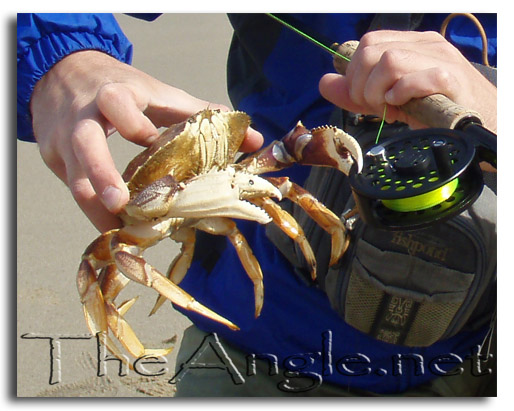 WOO HOO!