October, November, and December have got to be my favorite and busiest months here in the Bay Area, at least from a fishing perspective.
My favorite fishing happens this time of year on my favorite waters and when the local conditions continue to be as good as they've been this year, I once again find the Delta taking front stage.
This past Saturday was Dan Blanton's annual fund raiser on the delta, Striperfest 2007. With the "responsibilities" piled high I couldn't make the whole weekend so I headed over late afternoon on Saturday to get in on the good food and most importantly the raffle.
I stayed overnight and fished Sunday.
After spending a great evening yakking with the likes of Dan Blanton, Lee Haskin, Dave Sellers, and many other hardcore delta guys, I was all charged up Sunday morning to put some new flies in front of some hungry stripers.
Lee Haskin had "slipped" me a couple of bigger Sub Zero surface flies I couldn't wait to cast in the morning's low light and my attempts at the latest fly Dave Sellers' had recently posted on Dan Blanton's bulletin board were loaded in the box and ready to do the sub surface work through the day-light hours.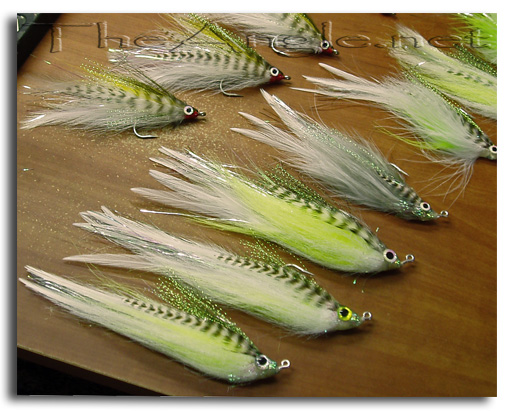 The larger ones were tied on EC413 4/0 hooks and are about 6 – 7 inches long.
I spent the morning prospecting new water with the Sub Zero in search of the big blow-up but only managed one small blackie.
As the day brightened I switched over to sub-surface and alternated between one of my proven delta patterns and different versions of Dave Sellers' keel weighted deceiver/seahabit/ (not sure what to call it) fly which was really fun to fish as the various weighting configurations and proportions I'd tied really seemed to effect the "loop-d-loop" action he'd described.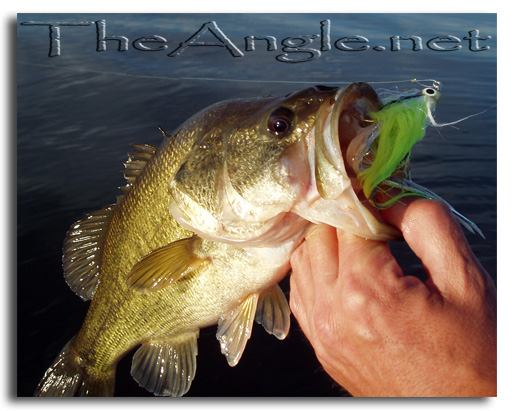 Each fly had its own unique action which required a little boat-side tuning in retrieve which I really enjoy.
It's impossible to compare patterns when fishing alone unless you get into a consistent school of fish which I never did, but as I alternated patterns throughout the day I found ~20 fish all between 3 & 6 pounds here & there with no one fly appearing to out produce the other.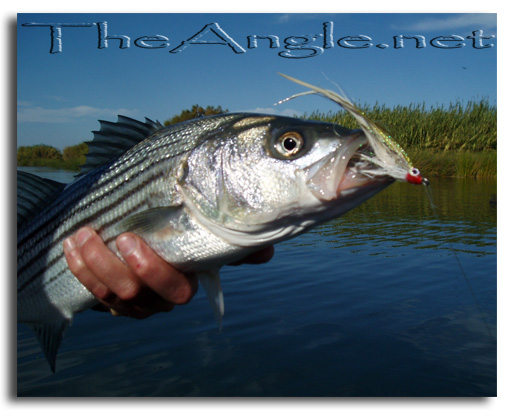 Where I see this fly really shining for me is with fussy fish where I think the unique 3-dimensional retrieve will drive them bananas!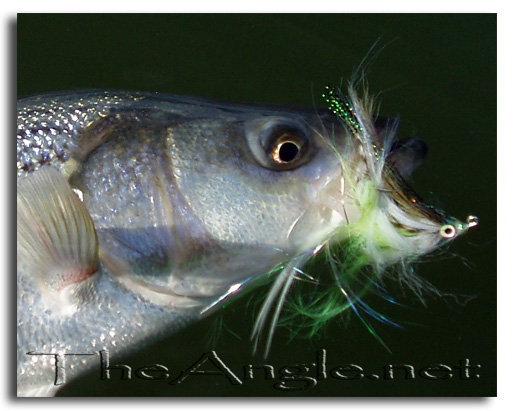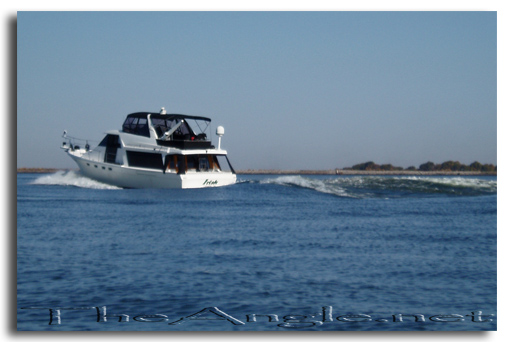 The wake some of the big cruisers leave and how close they run past you out there never ceases to amaze me.
As the sun touched Mt Diablo in the evening I put away the T-14 and brought the top water setup back out and resumed my top-water exploration.
This time I was alternating between Lee's Sub Zero and my proven Dahlberg-type fly I'd been using last year.
The conditions were what I consider ideal but as the visibility was approaching "zero" I hadn't had so much as a boil.
On my 2nd or 3rd last cast the Sub Zero got smacked by another 2 -3 pound blackie! As I got him to the side of the boat for a picture the hook pulled out. Oh well.
With Dave & Dan's permission I put a PDF together with Dave Sellers' tying instructions and pictures from Dan Blanton's bulletin board. You can click the link below to check it out.