Two weeks ago Dave and I made a run up the Central Valley to check in on the King Salmon run. They were there, but showed absolutely no interest in anything in our fly boxes…
…My next trip (last night) started out the same.
There were a few fish rolling here and there but they appeared to have absolutely no interest in my flies – the very same flies that have not let me down up there in 7 years.
Even the gear guys were complaining of the poor fishing.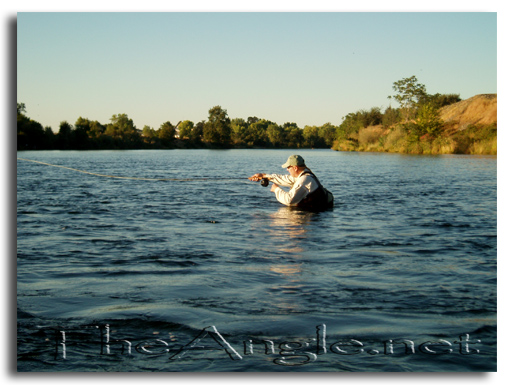 Dave from 2 weeks ago, never one to shy from deep wading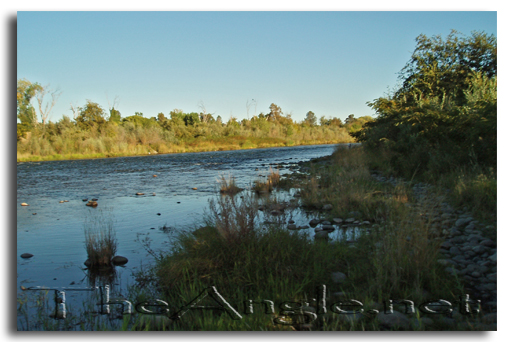 Finding this riffle void of fishermen definitely suggested that the fishing had indeed been poor, any other evening there would have been 30+ gear guys lined up here.
And then suddenly, like a light switch, they turned on! It started with the exact same cast I'd been making to the exact same spot, with the exact same swing when the line suddenly tightened and the rod surged to life. It was short lived as the fly pulled free within a few seconds of a determined down stream run, but it was just the reassurance I needed. The next cast, to the exact same spot, with the exact same swing, brought the fly mid way in when it too came to a sudden THUD and was immediately followed with a series of BIG angry head shakes that made the 14 foot 10wt spey rod feel like a 3 weight. Much later, now under the light of my head lamp, I dug for my camera with my right hand while my left hand was wrapped around the tail of a 42" long King Salmon!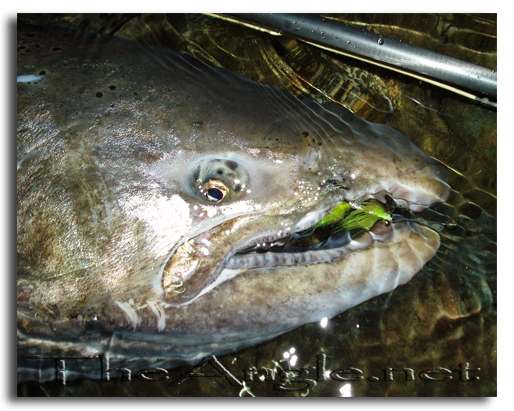 29.46 pounds according to the Weight Calculator (42L x 22G). For comparison you can checkout this picture of a weighed 25 pounder from a few years ago when there was an available gear guy (they make great "on-the-spot photographers").