"Let the abuse begin", was his declaration as he tossed a Sage gear bag and 2 dozen high-end fly rods into the back of the truck.
We were in front of the baggage claim at SJC. Next came an open armed lunge toward me (for a bro-hug or something) while he flamboyantly shouted something about gay lovers.
Once in the truck, while the parking Nazis were performing their violent arm waving routine, he quietly grunted with disgust, "Bay Area…" my response, "bring enough rods?"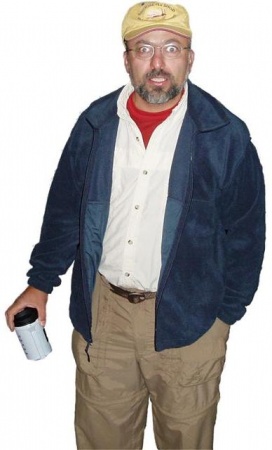 A self-proclaimed Oregonian (California expatriate), my good friend Al had flown down from Portland for four days of "Delta Striper Slaying Debauchery"…
…In his words, "If there's anything at all good about the state of California, or especially the Bay Area, it's the Striper fishery and that's it", and that's what he was here for.
If there's one thing Al is not, it's subtle. If there's one thing Al is, it's a sportsman. A long time hunter, outdoors-man, and most importantly, a fisherman – he's knowledgeable, he's logical, he takes it seriously, and he can dish it like no one else…
…A favorite Al quote of mine is this: "You know why we give each other compliments… because it makes the insults hurt that much more". Fishing with Al is an experience you don't soon forget.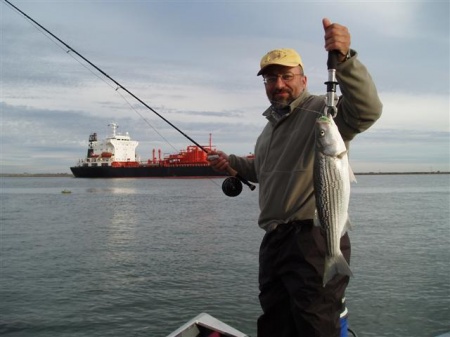 Dan Blanton throws an annual fundraiser at Sugar Barge, a BBQ for the conservation of delta stripers, called Striperfest. Our intention to attend was the initial reason we'd picked this particular weekend. Our assumption was that the day of the actual event would be a day we take it easy, explore some new water, and for Al, take an extra long lunch break as we were expecting all the good water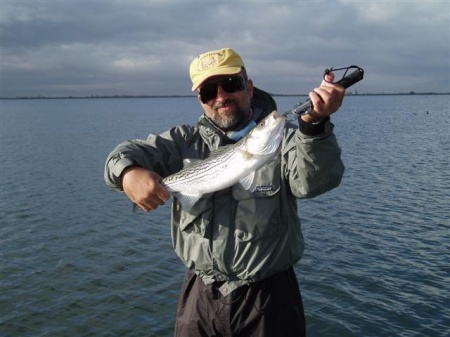 to be crowded with Striperfest attendees. That was hardly the case.
From first light we were into fish. With no boats in sight, Al must have picked up a fish, usually a few, from every single spot we hit. It was one of those days where he appeared to be unable to do anything wrong (as I wondered if I could do anything right). He must have landed 5 or more to each one of mine. If I marked 1 on the sonar, he caught 3. As the time for the BBQ approached we'd pretty much forgotten about it but needed to go in for gas. As we ran across Frank's Tract, our adrenalin still in high gear, we were both having second thoughts about the event. It wasn't until the smell of the BBQ hit us as we were passing Sugar Barge that we made the final decision and pulled the boat into a slip and tied up.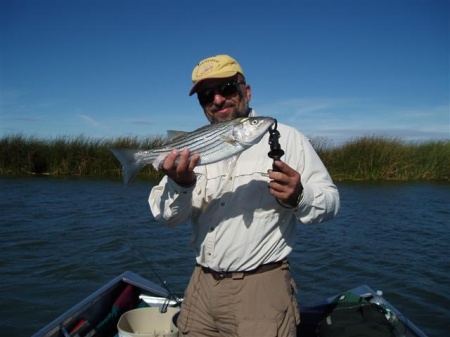 The all-you-can eat BBQ was every bit as tasty as its smell had suggested and the crispy Sierra Nevada from the open bar washed it down like nothing else could. I'd say it was a step up from the previous night's dinner theme, a can of bud light , a can of chili, and another can of budlight. Another good friend of mine, Dave, showed up to share a table with us and lucky for me, was able to spot me $20 bucks for the raffle. It seems a certain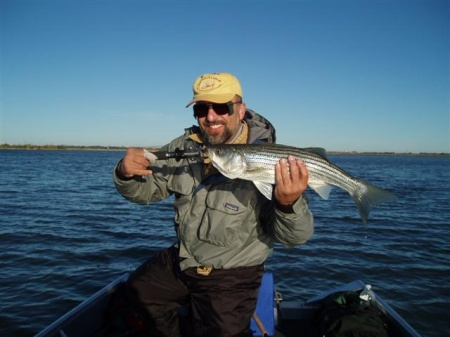 Oregonian had conveniently "forgotten" his wallet back at the cabin and his entrance fee had taken my last $20. I felt rather pathetic buying my 2 raffle tickets while the guy in front of me walked away with a couple hundred dollars worth, but when the time came and the tickets were drawn, guess who won a new Sage FLi 9wt!
The 45 minute boat ride back to the cabin was a cold one. While the outboard quietly hummed as we idled down the slough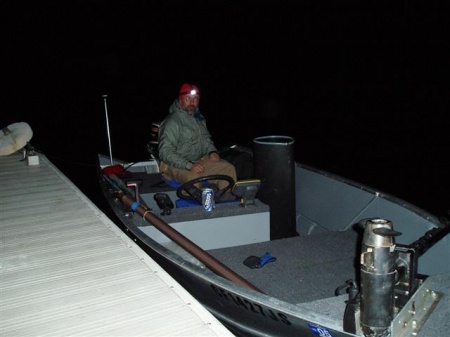 in the pitch dark, I replayed the day's events through my head. I thought about the delta, and what a unique place it is. I thought about Striper Fest and its many attendees, all contributing to the conservation of this remarkable fishery. I wondered if it would even make a dent in Sacramento. I thought about the fishing we'd experienced earlier in the day. I remembered Al's first hook-up of the day. I remembered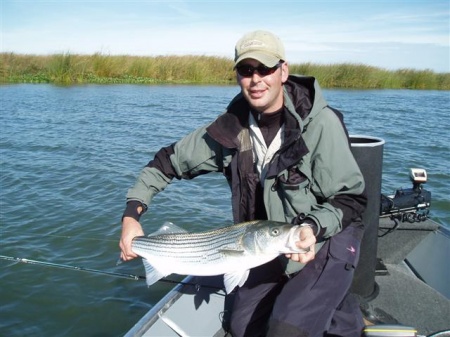 photographing his 2nd, 3rd 4th… I remembered Al's droning complaints about my boat handling skills (regardless of how many fish he continued to catch). I remembered telling him he was welcome to swim back if he'd so like. I remembered arguing with him over the merits of LC13 vs. T14. I remembered the house boat hippie lady getting rid of the Jehovah's witnesses at lunch. I remembered Al whining yet again about my boat handling (as he nailed another fish). I remembered the young bartender at The Landing as she was learning a life's lesson, the hard way, that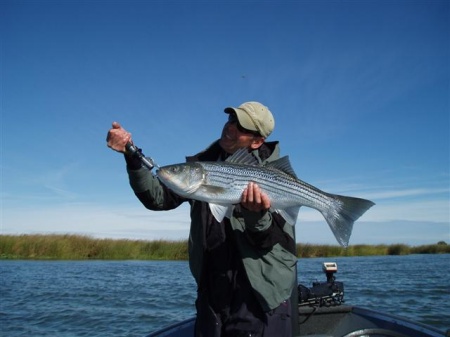 you can't be nice to everyone. I remembered the spot we'd nailed a small black bass on literally every cast. I thought about the boat. I thought about all those hours I'd spent restoring it in preparation for times just like this. As we motored on through the darkness at a breezeless 5mph, navigating the sloughs by running lights & GPS, Al remarked that he didn't think his legs had ever been so cold. I told him I was sorry, and as his insistant "boat handling" complaints continued to echo through my head, I gently bumped the throttle up a notch. Shortly after which, under his breath, he quietly mumbled, "bastard".
Back at SJC, Al grabbed his gear out of the truck bed, turned to me and said, "See you in February?" My response, "Absolutely"!