My Oregon buddy, Al Neves, was scheduled to be in the Bay Area for a few days on business and after hearing last weekend's fishing report he decided to pack a few fly rods and extend his trip through the weekend to join me on the Delta.
The early morning's drive over is still a bit of a haze as is the actual launching of the boat in the dark…
…I think the moment I actually awoke for the day came as I returned from parking the truck & trailer to hear one of my favorite sounds coming from out in the slough, SMACK!
…As I approached the launch – there was Al at the end of the dock frantically stripping off line and firing casts to the middle of the slough where fish were busting bait.
I jumped in the boat, tossed the lines, dropped the trolling motor, and said, "Quick, hop in"!
We spent our first 10 minutes on the water silently drifting down the slough in the dark throwing top water flies to actively feeding fish that were apparently far too keyed in to the real thing to give our gaudy imitations any interest.
Leaving fish to find fish is always risky but these weren't the fish we were looking for and there was no time to waste as the tide was due to slack out in the next hour so I fired up the outboard, we zipped up our jackets, and we headed out.
I couldn't wait to get to the first spot. I'd successfully bugged Lee Haskin last week into sending me one of his latest Sub Zero surface patterns (thanks again Lee) and there was a certain piece of water I was really anxious to plop it across.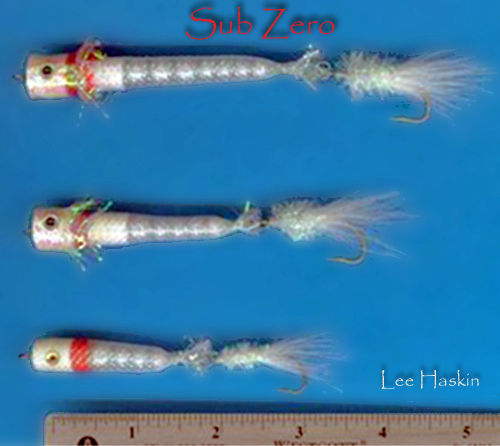 It just happened to be the same spot I'd witnessed it's prototype score a big Moe from last year.
We didn't find anything in "The Spot" this morning but Lee's Sub Zero was such a pleasure to cast (compared to the usual bird-on-a-hook size flies I'd been throwing for top-water) that I stuck with it a little longer as the tide slacked and the sun came up and I was rewarded with a great blow-up from an awesome little blackie that shattered the glassy surface as his over zealous charge tail-whipped him 180 degrees!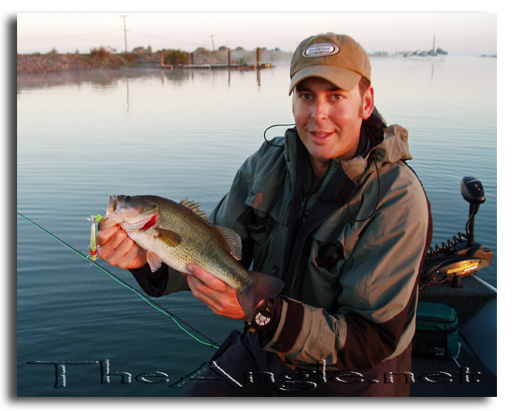 A little later Al hooked up with this pig! I think the nearby tournament guys were a little envious when they saw the picture being composed. They'd have been even more surprised if they'd seen how small of a clouser it took.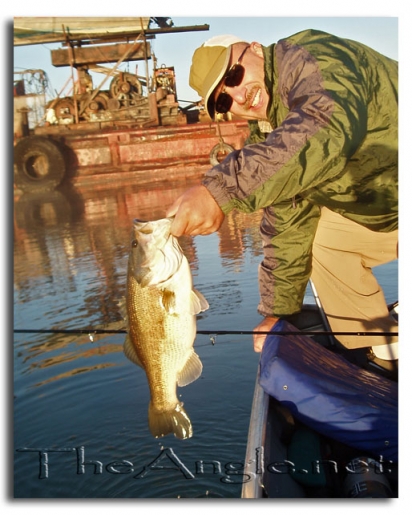 From there we moved on to a few other spots where we found more fish than we probably deserved. The majority were real dinks, and short-striking dinks at that, but we still crossed paths with enough 2 – 3 pounders to keep it interesting.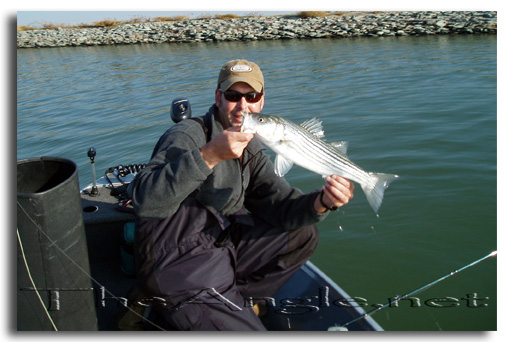 I'd seen some pictures of Jose's of some of the warm water fish the Delta can offer when you "scale it down" some, especially during the low-light hours through the heat of the summer, and I'd even caught a big blue gill or two while fishing for stripers, but this was the first crappie I'd seen caught on a striper fly.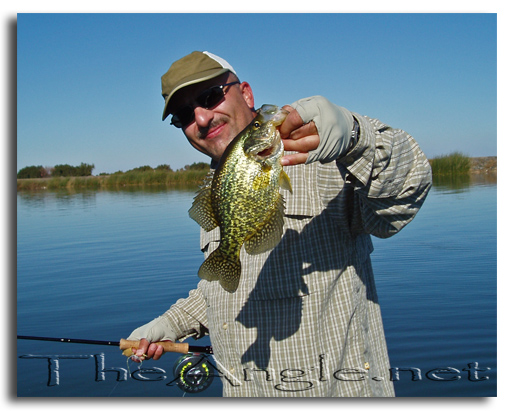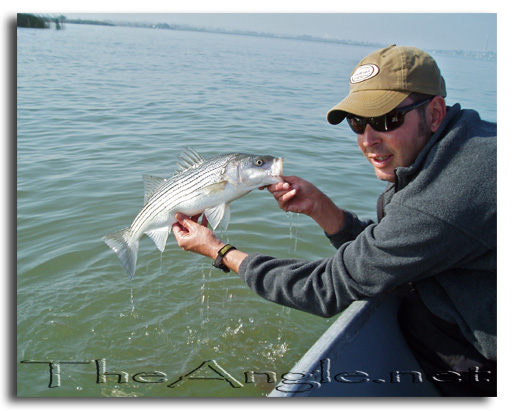 At one point the double hook-ups got so ridiculous that I tossed my rod to Al, "Say Cheese"!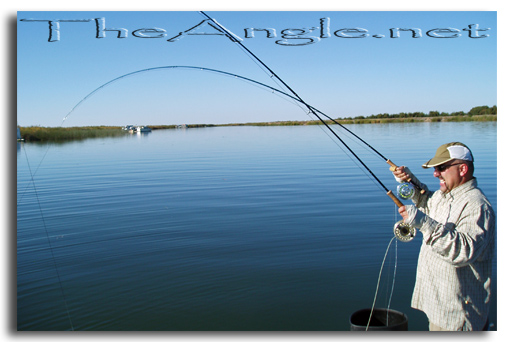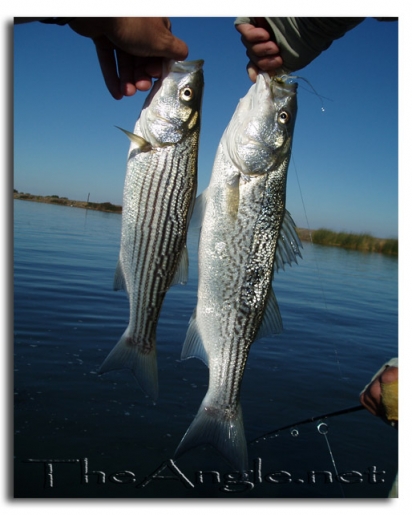 The flat-calm, windless conditions allowed us to explore quite a bit further West than I'd ventured in the past and we found ourselves in the middle of a huge flat that was packed solid with feeding dinks. It was basically every cast. You'd get the grab, they'd miss it, you'd keep stripping, and they'd keep grabbing. Eventually they'd get the hook. They weren't big, but man was it fun. We moved on at one point to look for bigger fish but stopped back by an hour later on our return, agreeing that we'd leave after 5 fish a piece. It was only a matter of minutes before we were making "one last cast", getting grabbed on every one of them.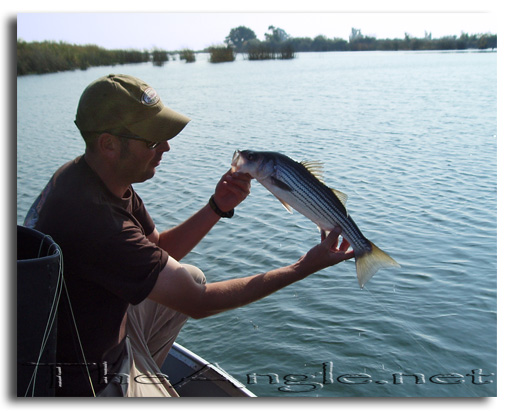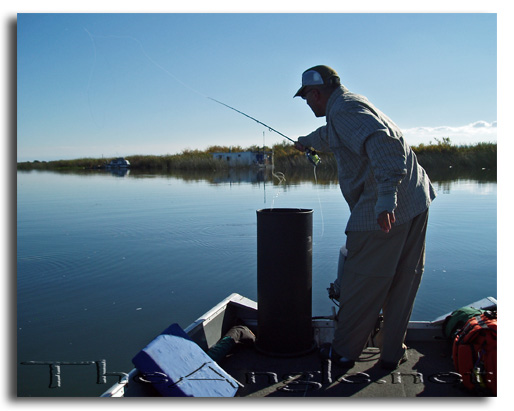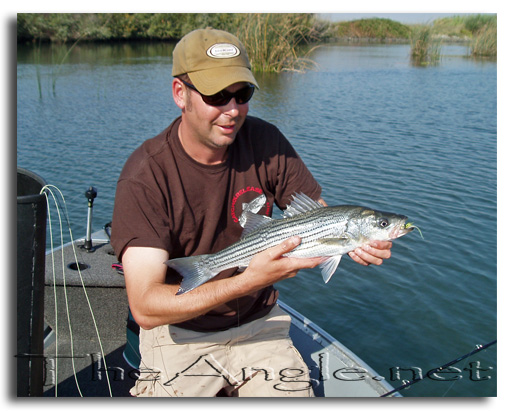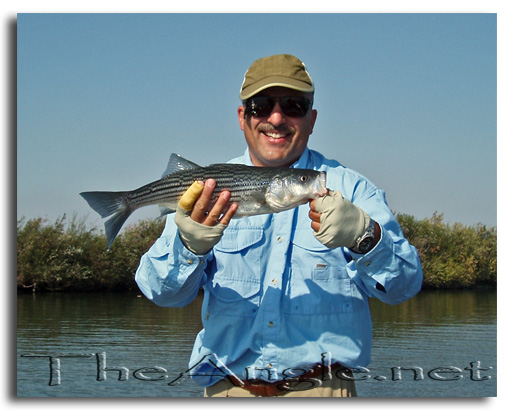 Realizing that this was turning into one of those rare trips where the hungry fish seemed to be in ALL of the likely places, we started focusing on big-fish water and big-fish flies.
Before long I was into a weighty fish that I absolutely could not turn. At one point it got below the boat and I'd have sworn my line was wrapped…
…I told Al something wasn't right, tightened my ferrules, then plunged my rod tip down toward the bottom.
Brandon & I are no strangers to this technique thanks to a trip a few years back where we'd spent the better part of 3 days literally yanking 7 – 10 pound fish out of the middle of the Bay of Tears.
You should have seen the look on Al's face as 9' of my 9 1/2' RPLXi went subsurface…
…I agreed with him that it would probably break, assured him it wouldn't be the first time, and guaranteed him it wouldn't be the last. (Isn't that why these $600 rods are warrantied? Besides, that's why I bring back-ups).
I could feel the eye of the hook with the rod tip (which is really dangerous considering warranties don't typically cover "lost" pieces) but I couldn't "feel" anything my line could be wrapped on…
…I poked a few more times and apparently that was all the prodding the big fish needed and up it came!
…12 Pounds of big-bright-orange Delta Carp – Decorated with a 2/0 piercing through its dorsal.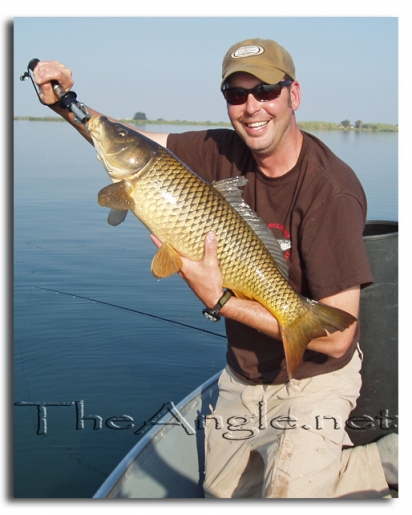 From late afternoon to dark we got into a great bite spread out over a matter of acres. The fish were all in the 4-6 pound range and as hot as they get. They weren't every cast but I doubt a dozen casts were ever made between hook-ups.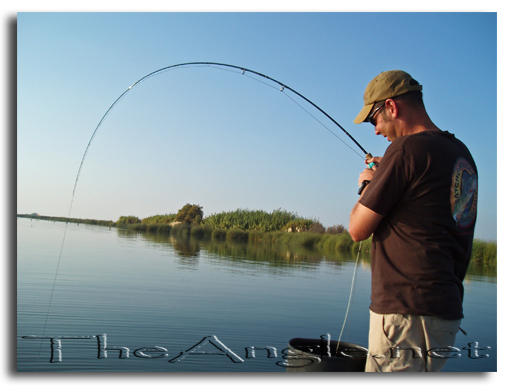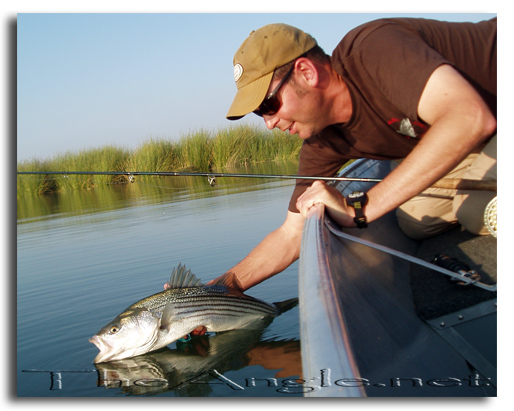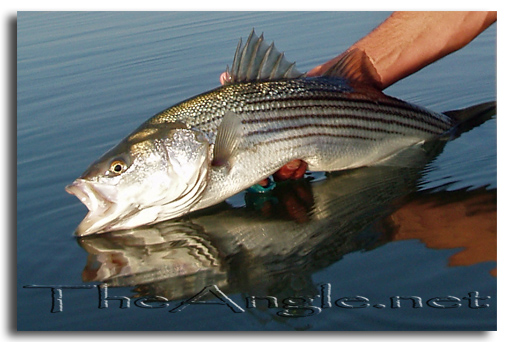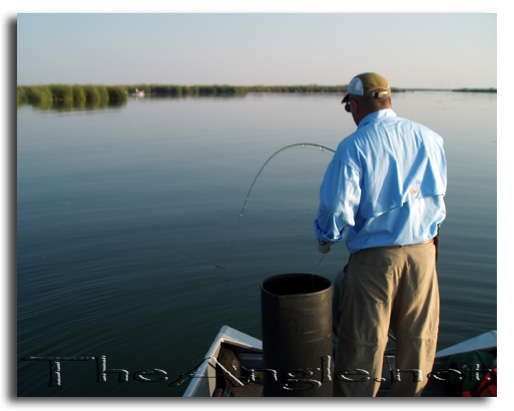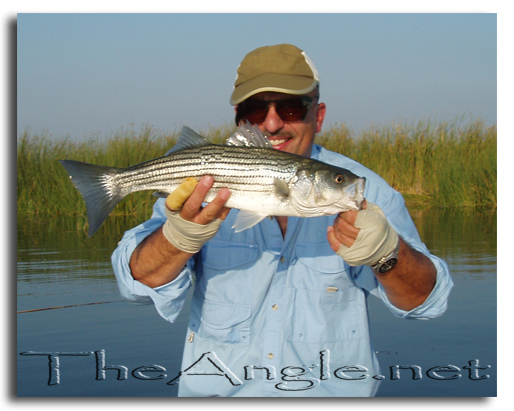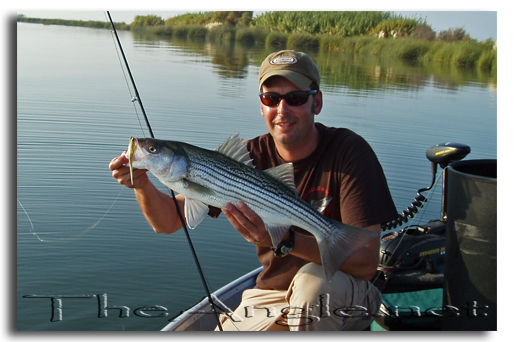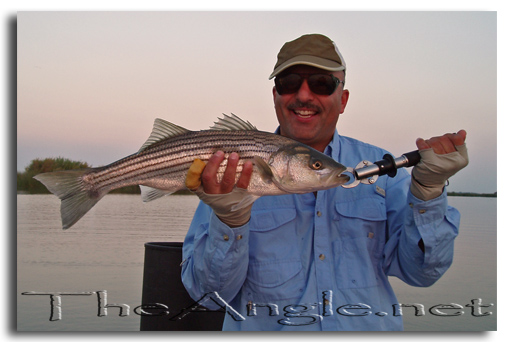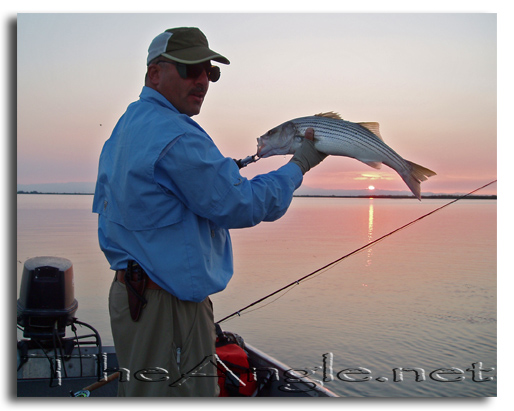 Immediately after these last 2 shots were taken I pulled out Lee's Sub-Zero in anticipation of what would surely be an incredible evening top-water bite when suddenly, within seconds of the sun dropping below Mt Diablo, the wind went from non-existent to a steady 7-8 mph.
That was just enough to ruffle up the water.
Al stuck with his sub surface presentation and I plopped away at the surface with the sub zero in the wind waves. I didn't expect much considering the broken surface but kept at it as we slowly came to the conclusion that it was indeed over and the boat ride back was going to be a long one in the dark.
I was silently congratulating myself for remembering the million candle power spot light when all of a sudden… SMACK!
The hook didn't stick, but that mattered little. I'll be back next weekend!