I needed some fly tying material for an upcoming Baja trip that I couldn't find locally so after confirming that one of the Sacramento fly shops had what I needed in stock I called Dave, Jeff, and Jose to see if they wanted to head up and fish the American River for the evening.
After some lunch, an unexpected traffic back-up, and an overheating Nissan Xterra, we made it to the fly shop and then on to the river.
The first spot we fished was pretty crowded but a few fish were being caught by gear guys slinging bobbers out 150 yards. After making a jackass out of myself trying to manage a 13' spey rod in the line up of gear guys we decided to check out another spot down river in hopes of finding less crowded water.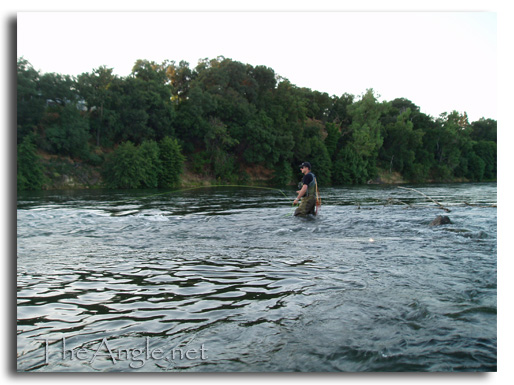 The next spot was incredible. The sun was off the water early due to its high bank on the opposite side which just made it feel that much fishier. Right off the bat we found "the bucket", well sort of… it was a short lived bucket, but it did put out a couple of fish. The best part of it was we had the whole place to ourselves, other than a couple of deer across the river.