While telling Jeff that there was no reason to kill ourselves getting to the American River early because the shad bite doesn't usually get going till the late afternoon, he suggested stopping by Putah Creek on the way.
Though I've stopped by Putah Creek a few times over the years to have a look around, my fly rod has never actually been strung up on its bank. The desire to get where I was really going had always out weighed the urge to pull on a pair of waders to poke around its banks any further.
Putah Creek is Jeff's water and whenever the mere name of it comes up, his face lights up just enough to make me wonder if I may have missed something. So Sunday morning we headed out to find out.
As we "took a peek" at a number of Jeff's spots (awfully fishy looking spots I must add) along the river I quickly realized that my previous dismissal of this water had indeed been premature. We continued on and settled in on a nice piece of water below the dam where a deep pool spilled out into a fishy riffle.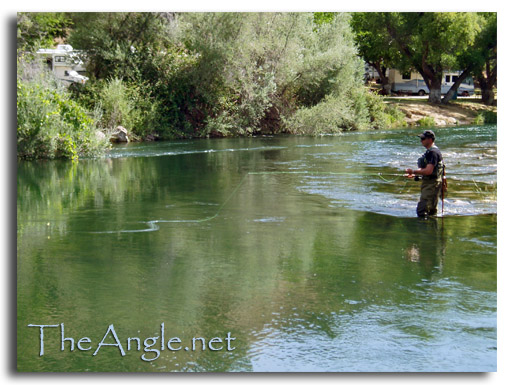 It didn't take long before Jeff announced that there was a little 15 incher feeding directly in front of him. I quickly attempted to correct him that in the trout world, there is nothing "small" about 15 inches. He coolly replied, "Wait till you see a nice one".
A few minutes later and he was hooked up. As I got the camera out of my pocket the fish came off. That show was repeated a number of times, for both of us.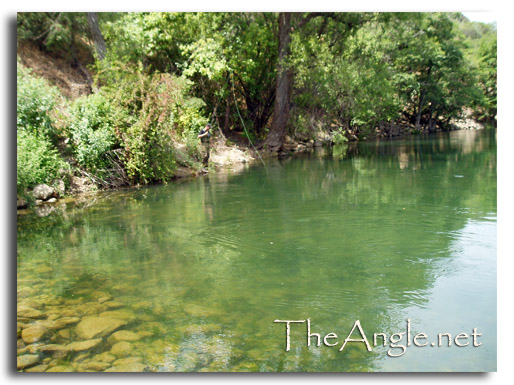 As another "little" actively feeding fish 20 feet in front of me was busy dodging every single fly in my box, one of those "nice fish" that Jeff had spoke of earlier made its way up through the riffle and into the pool. This thing was a monster! And he wasn't alone. I spent a fair amount of time humiliating myself with those slabs and eventually sent them on their way.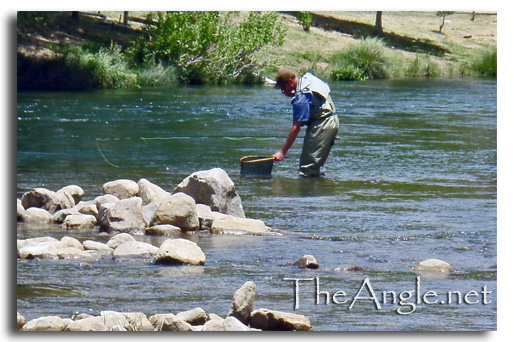 I headed down river some to drift Jeff's "magic fly" through a seam I'd had my eye on. It didn't take but a few drifts and I'd hooked up. My first Putah fish! He may not have been a slab, and if 15 inches is considered "small" in this water I suppose he'd barely make the "dink" mark, but at 11 inches that mattered little to me. And besides, where he came from, came 2 more!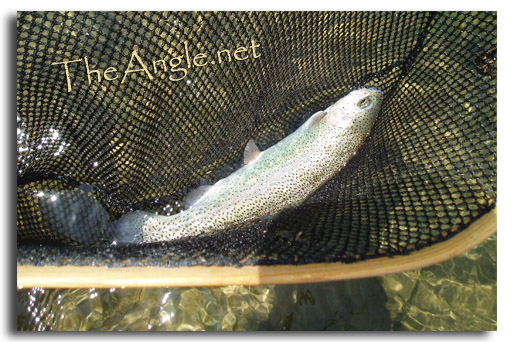 The trip had been intended to be an opportunity to bring out the baby spey rod and swing some heavily weighted, flamboyantly colored flies in a big river for shad, but there was something about the smaller water, the lighter rods, and the tiny, weightless flies that was making it tough to move on. Eventually we decided we really should get going if we wanted to give ourselves enough time to find a decent run to fish on the American before dark.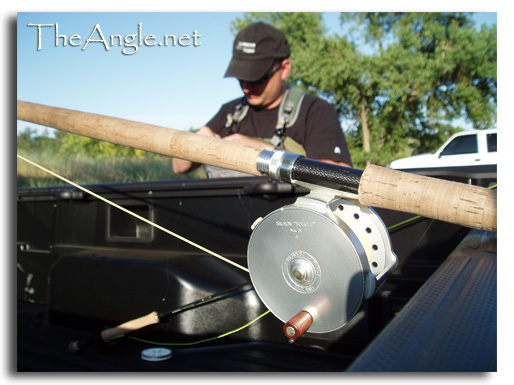 We made it in time to check out a few spots (and maybe a yellow bikini or two), rig up the bigger rods, and settle in on what should have been the best shad hole in the western hemisphere.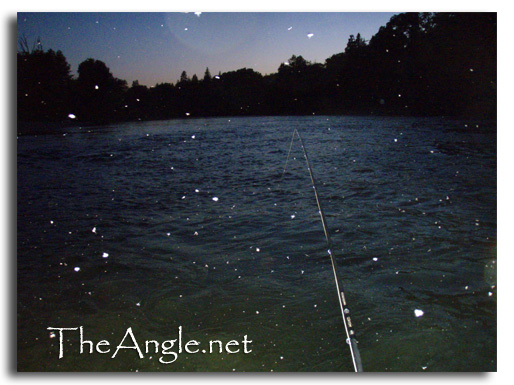 The shad never appeared, which I blamed on the recent increase in flows (though later reports throw that excuse right out the window), but the caddis sure came out in force after sunset. And just when I'd come to terms with the fact that we hadn't caught anything on the American, I get a text message the following morning from Jeff admitting that he hadn't been practicing catch-and-release, it read, "check for ticks" and included this picture…