I hadn't yet tested out the latest fishing accessory's towing capabilities (2007 Toyota Tacoma 4×4) and Angel was in town so we decided to drag the boat up to San Luis for the day and see if we couldn't find a few stripers. The last time we'd fished the lakes together was a few years ago and the fishing was incredible.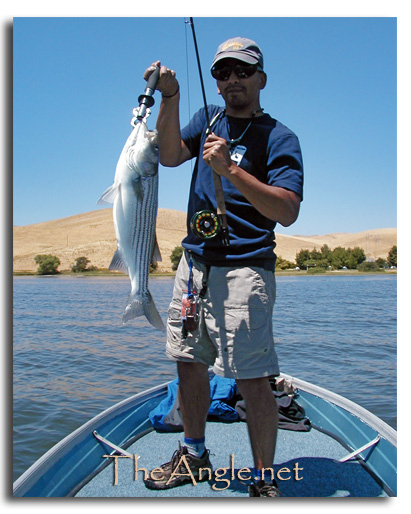 After watching Angel's 6 weight get its butt kicked by a 6 pounder in the small lake we took advantage of the windless day and spent the afternoon in the big lake harassing a huge blitzing school of 2-3 pound stripies that were wreaking havoc on an endless school of smelt that had been cornered up in pretty good sized cove. I remember looking over the side of the boat and watching the individual confused little 2 inch bait fish briefly appear on the surface, broken away from the protection of there schooling buddies, and then suddenly, out of no where, a ravenous little 2 pound striper would buzz in and mow them down. Looking back, the action seemed to go on forever.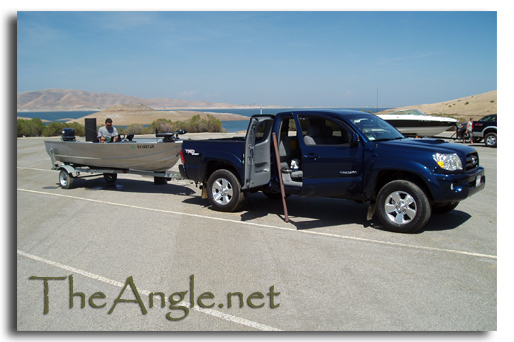 That was 3 years ago and this trip was different.The wind had been howling over the past week and the majority of the big lake was really muddied up. All the previous hot spots from the past few trips were high and dry. It's amazing how fast they're draining the lake this year. Though the wind was not nearly as bad as had been reported earlier in the week, it was still enough to keep us tight to the western shoreline most of the day and we never really did mark any fish on the finder, but spent the day faithfully covering as much fishy looking water as possible. Around 4pm we bagged it, for the first time in a long time… SKUNKED!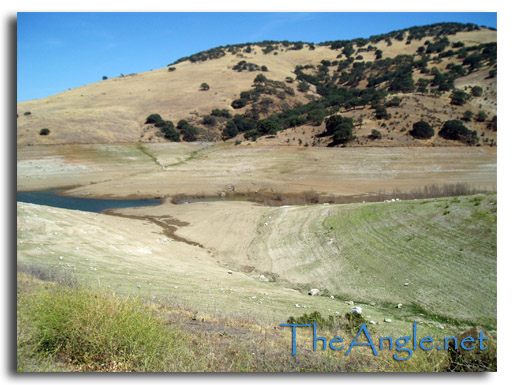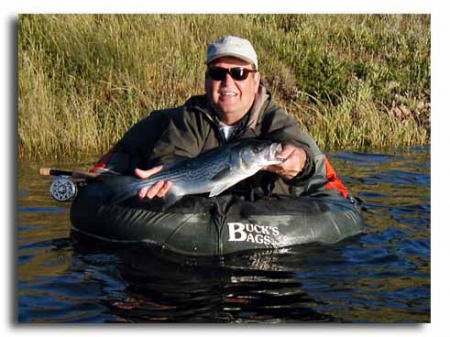 On the way out of the launch area I was marveling at the waterless cove I'd spent one of my favorite days at the lake fishing in a few years ago. It was the same time of year but the lake was full. It had been raining off and on all day, the wind was up, the fishing was so-so, and I was sharing my newly found fishing spot with my dad.
As my eyes searched the opposite shoreline for the exact spot the 5 pounder had grabbed his fly that day, now high up on the hill, my trip down memory lane was interrupted by a commotion of red and blue objects shuffling around down near the last remaining mud puddle of what was a 60′ deep cove.
They were bait and gear guys. Apparently the lake had dropped quicker than the fish had anticipated and their last remaining days would be spent suffocating in the oxygen depleted water, all the while dodging the day in and day out barrage of bait, lures, and treble hooks, with no where to run…