I made another run to San Luis Reservoir this weekend, this time with Jeff.
After a bit of a late start and an enjoyable hour and a half drive of fish-yak, we were relieved as we crested the 152 summit to find a windless, glassy surface across the Big Lake…
…just as the weather man had forecast and the 1-800 wind lady had confirmed – two people BTW, that I always take with a grain of salt.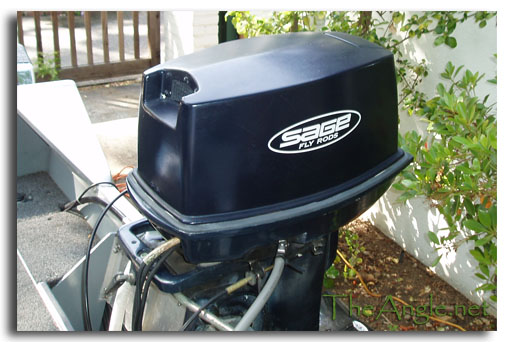 The latest performance enhancement (new Sticker!)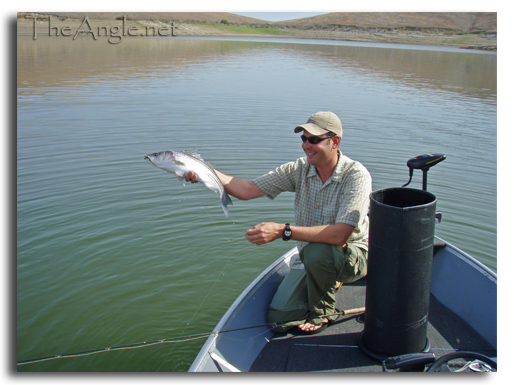 After fishing a few of the spots I'd done well in last week we decided to take advantage of the disgustingly flat water and run to an area I'd been anxious to fish but hadn't been able to recently as it is the absolute worse place to be caught in when the wind is up, and my last trip out it was blowing at 20+.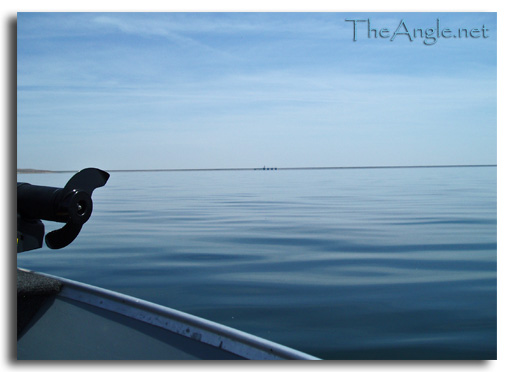 From the middle of the lake looking toward the "Trash Racks"
Shortly after arriving, I spotted a water mass of commotion coming our way. Shad! American Shad! And lots of them! And once again, regardless of all the previous mental notes, the shad flies were safely tucked away at home.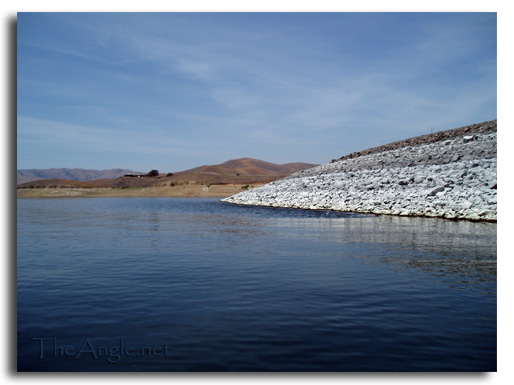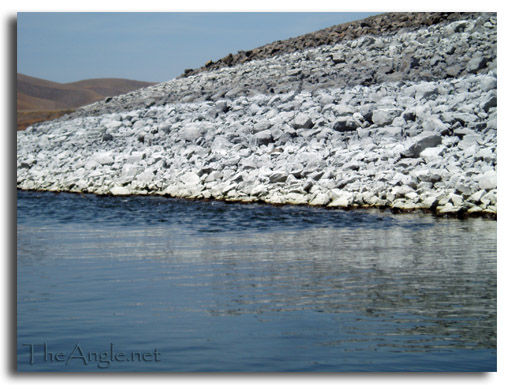 After a few fruitless attempts with our smallest, gaudiest clousers, Jeff broke out the scissors and we went to work on our most flamboyant striper flies for another shot but these guys wanted nothing to do with them.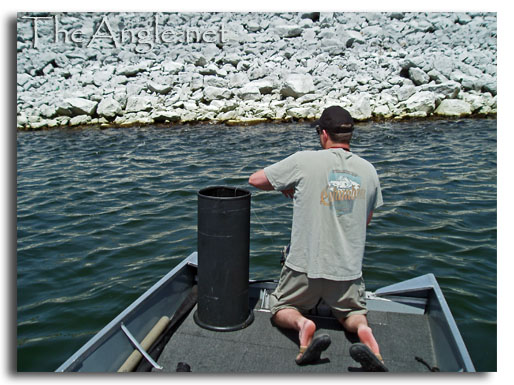 Eventually Jeff found that a low profile and an extremely fast retrieved fly caught a few glances, then a follow or two, and finally a hook-up!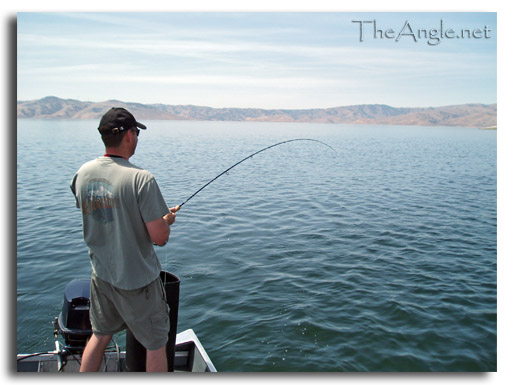 After his 3rd comment about how hard these shad pull, followed by, "It must be a really big shad", I began to wonder if we were in for a repeat of our last Delta trip together.
The rod was buckled over, he was putting all the pressure of his 9wt to the fish, and it was yanking like no tomorrow. Could this be a record Shad? I peered into the water in anticipation of the first visual. When it came, my first thought was, "that is a big shad", and then, out loud, "It's got stripes"!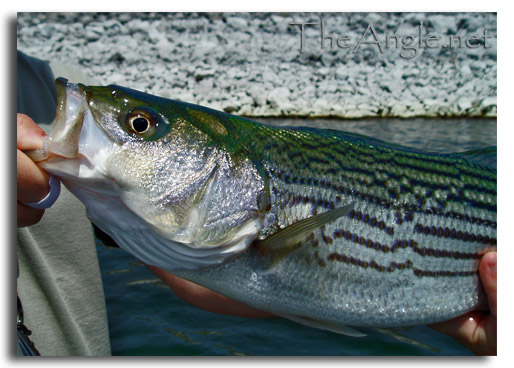 A little over-done w/photo-shop, but what the heck – I thought it looked kinda cool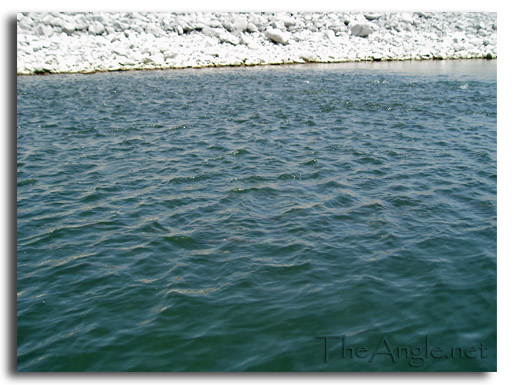 American Shad rifling the surface (I've got to get a polarized lens)
After that I tied on a more "respectable" striper pattern and repeated the extremely fast retrieve through the pseudo-melee and got slammed by a "striped shad" myself!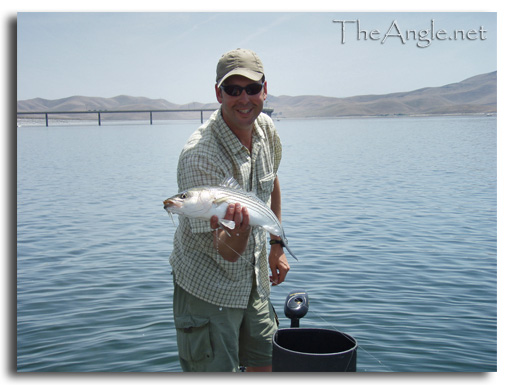 The weather man was right-on with the AM forecast and unfortunately, his PM forecast wasn't too far off either. It called for wind in the afternoon, averaging 10 -12 mph and as we headed for the famed Bay of Pigs it went from 0mph to 15+ in less than 10 minutes.
So, instead of fighting it we decided to pull the boat out, break for lunch in Gustine, and then check out the "nursery", otherwise known as Oneil Forebay.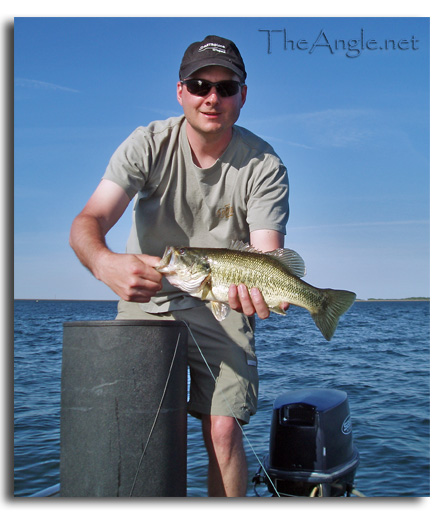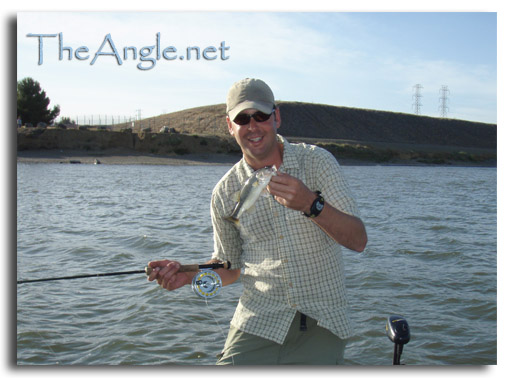 And no… that isn't bait