Today began with a mid morning phone call from Dave. He was waiting for a flight in Seattle on his way back from a 2 week trip to Alaska and was anxious to share his fishing report.
Shortly after that came the call from Al on a business trip in Massachusetts.
He'd been out fishing the Striper & Bluefish blitzes, though all I really caught from the conversation was that he'd FINALLY broken a rod. So much for his taunting, "I've never broken a rod" (which never has earned in cool points in my book).
Eventually the coffee was done and I settled down in front of the computer. Brandon was out visiting my parents in Colorado, so guess who the first email was from? And guess what it was about…
Hi Doug:
Well, the summer out here continues on. When Brandon & I went out on Friday it was scheduled to rain and had rained the night before. We stopped at the fly shop on the way and they told us not to bother going up river because it was blown out from the night before. He did say that fishing through town is jut as good and the water should remain fishable most of the day before the chocolate got that far down. So we went where he said but the weather was overcast and drizzling. It wasn't really cold but the fish were not red hot either. We both caught a few on nymphs and some on hoppers.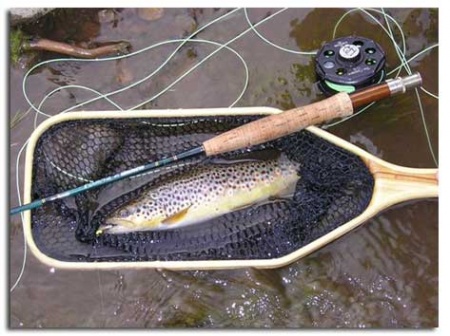 We ate a late lunch in the truck with the wipers going and decided to go on up above to see if the water was still bad. We got up there and the river looked like chocolate milk.
Brandon had remembered hearing several years ago about some out of the way small creek in the area that was rattlesnake infested but had fish in it. He couldn't remember the name but thought he might recognize it on a detailed map. Well, I pulled out my trusty Colorado Gazetteer and after about five minutes Brandon yelled out "I found it"!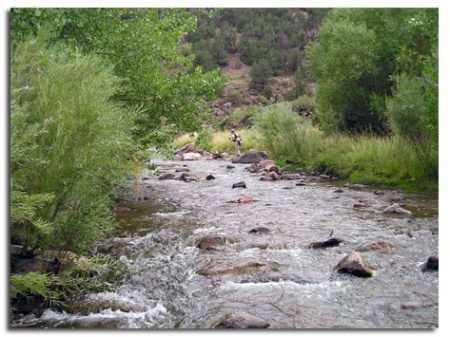 We drove down the highway several miles and then up and down a really bad dirt road for over five miles and came upon a really picturesque, very small creek that would most likely have a lot of little Brookies in it.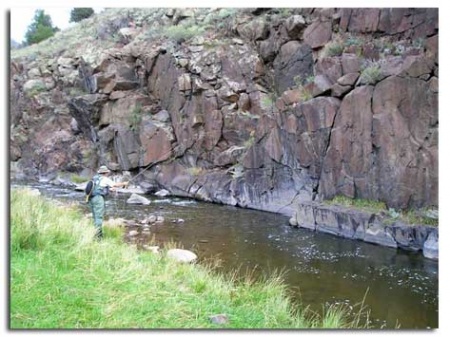 Never saw another vehicle or person in the area, and it had cleared up. Well, this was just the type of creek I've been looking for for years.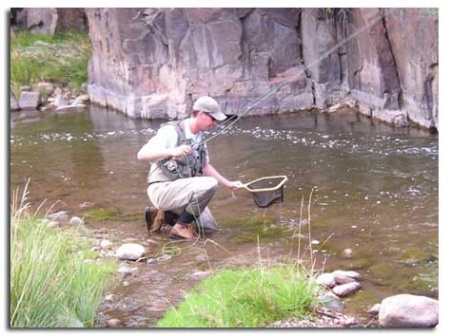 We had it all to ourselves and it was full of Brown Trout. There were fish in places that couldn't hold fish. Since they were Browns, we never saw them except when they came out of nowhere and smashed our dry flies.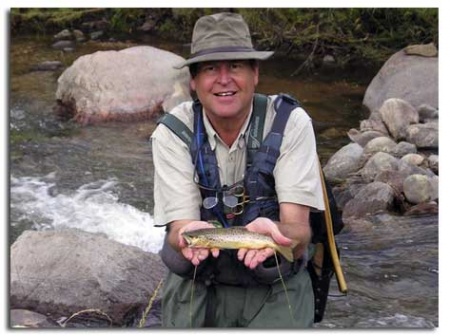 Surprisingly, there were plenty of respectable ones that were 11 inches and better.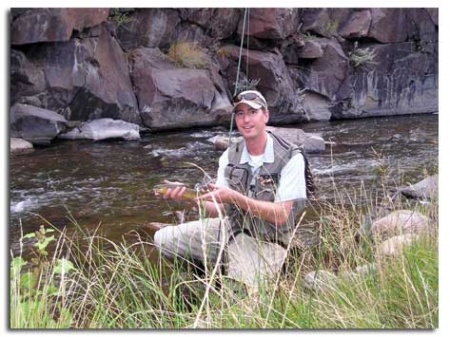 The only problem was we did not get there until 5:00 so we were limited but we caught a lot of fish and best of all, all on big dries including hoppers. We only went up stream from where we parked and there are miles and miles of roadless stream up and down.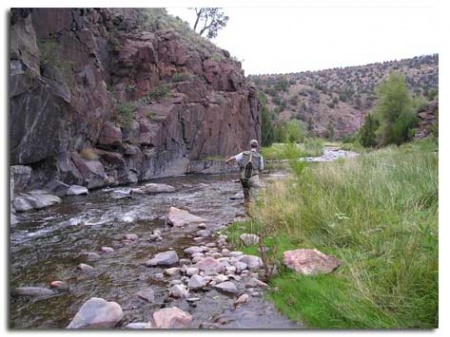 I will be back. And of course, the name of the creek will remain our secret but here are some photos.
Dad