With summer behind us, the steelhead should be well distributed throughout the upper river by now so Jeff & I headed North to do a little float trip down my favorite Fall-time Northern California Steelhead river.
The plan for the first day was to make the long drive and then fish our way down river to where we'd be staying.
There were still a few beat-up salmon on the reds, but most had already spawned-out and were now decomposing on the banks.
As we walked down to our first run I asked Jeff, "Top or Bottom?"
I knew the answer before I even asked but wanted to make him have to call it.
We've been referring to this run as, "Doug & Dave's Run" for years now because Dave & I had an Epic day there the first time we fished it – catching 6 large adult steelhead in a single pass. It was really sweet water then and continued to consistently produce the next couple years.
And then… one year, a gold dredger setup shop right-smack in the sweet spot and scoured out the bottom. The dredge was gone the following year but the run, at least as Dave & I knew it, would never be the same.
Fast forward a few more years to the first time I brought Jeff to the spot. It was early in the season and the sun was bright. I had fished the upper run and Jeff fished down 50 yards below my old sweet-spot where he hooked-up with an awesome early-run adult steelhead that came unbuttoned 30 seconds into it.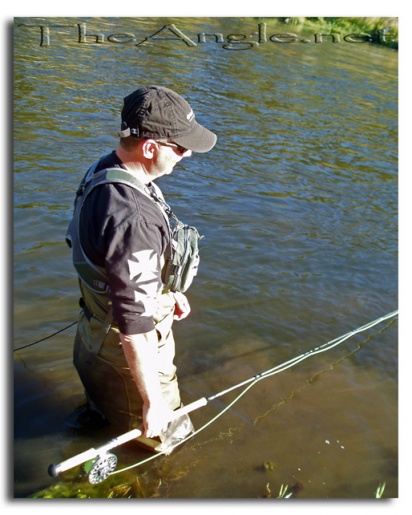 That was last year's October Steelhead Trip and was the last time Jeff fished this particular run.
Back to Today… Jeff had a score to settle so there was no question which water he'd choose.
After a short walk through the alders we were in our runs and fishing our way down. About midway through the top I felt the first grab and was instantly into a hot halfpounder…
Just as I was releasing the halfpounder and stepping back into the water I heard Jeff yelp…FISH ON!
I turned around and high-tailed it down river with the camera.
And it only got better. Check out Day 2…