OK, maybe "c-r-u-s-h-i-n-g" it, is a bit strong, but at a solid 24 pounds, I'm now officially over the 20# mark.
It was early morning when I pulled into the parking area…
The magic gray-light hour was just beginning and I figured I still had another 10 minutes to get to "the spot"…
…I was in high-gear as I made my way down the beach, anxious to cover that awesome looking hole at what I'd calculated should be at its optimum tide stage…
Just before arriving, a really sweet piece of water caught my attention and I had to bargain with myself as to whether or not I had time for a few casts. I justified that I needed to get my line stretched out and into the bucket anyway, so why not…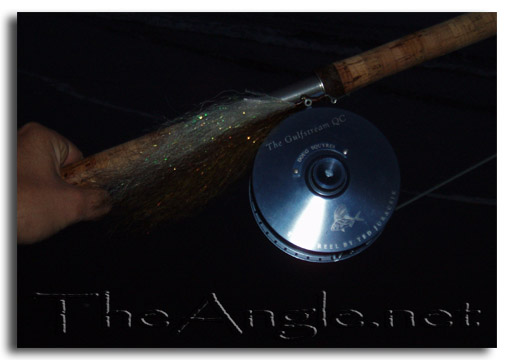 It couldn't have been more than 3 or 4 casts when my long strip was suddenly met with a THUD!
A split second later the line snapped tight to the reel and the monster Gulf Stream took off singing…
Man, talk about waking me up!
The battle played out for a while as we traded line back and forth… There was no getting around the fact that this was indeed a big fish…
… but with limited experience in these conditions I had no idea just how big…
When a nice-sized breaker finally presented an opportunity, I surfed her in and quickly ran down the beach to greet her…
The water receded just as I bent over for the grab and I about fell over – she was freakin HUGE!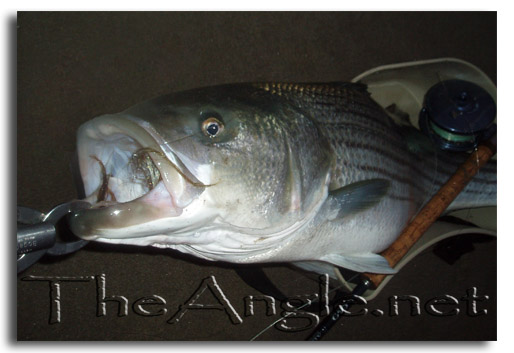 It didn't take long to figure out that the "bucket-pose" wouldn't work…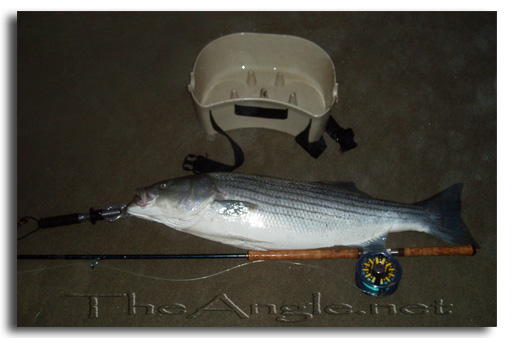 So with out much left in this "solo" situation I went with about 15 "on-the-sand" poses. Luckily a couple turned out OK, all things considered.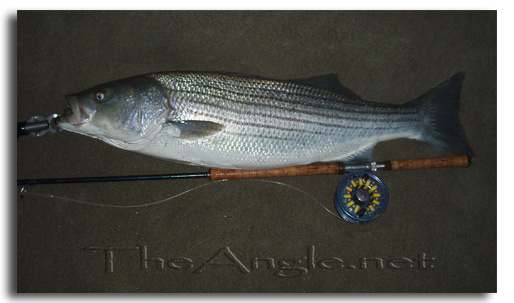 The 1st guide is exactly 40 inches…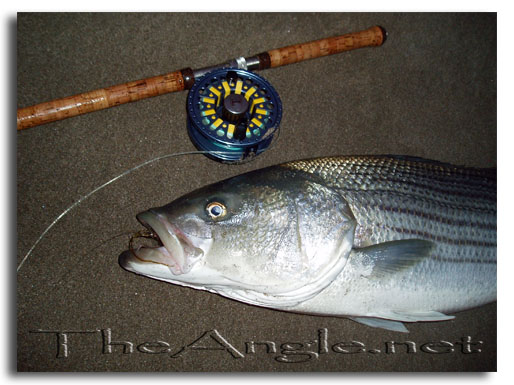 Once the 90-mile-per-hour photo shoot was over she took advantage of her massive tail and graciously bid her farewell, leaving me with a face full of salt water.
I was on cloud nine and quickly dug my zip-locked iphone out and fired off a couple of 6AM wakeup text messages, and then dazedly headed back out into the pounding surf.
And Then Came a 2nd Fish…
Another 3 or 4 casts… and there was that familiar…"Thud!" again…
The line surprisingly made its way out of the stripping bucket once again without knotting-up or wrapping around anything, then quickly snapped tight to the reel, again, and off we went, again…
It wasn't as large as the earlier fish but it was no push-over either…
We tugged-it out back and forth for a while and just as I was getting ready to bring him in on the next wave…
The hook pulled free.
Back out into the waves I went, and as I was getting my first few casts back out there a couple of guys walked past, behind me, and began fishing a few hundred down…
All I could think was "Man, where were those potential photographers a few minutes ago… "
And Then Came a 3rd Fish…
Just then, as I was admiring my fly before bringing it out of the water for a back cast… it gets mowed down by another striper!
The fish tries to take off for deep water but can't get any traction for some reason and just throws water all over the place 15 feet in front of me.
The guy to my left sees the commotion and reels up to come have a look. "Awesome, photo opportunity"!
The fish gets his traction, and the fun begins…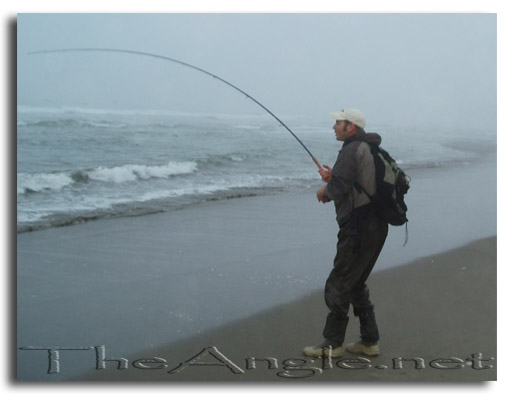 Once again the line luckily makes it all out without tangling and the fish is tight to the reel…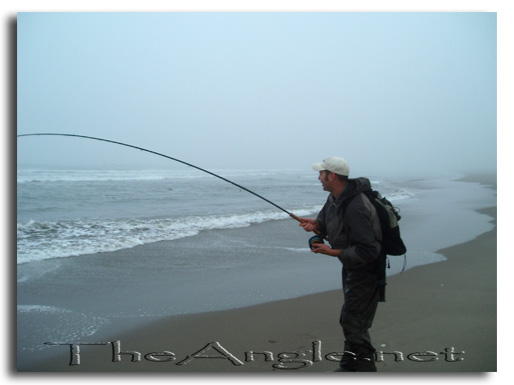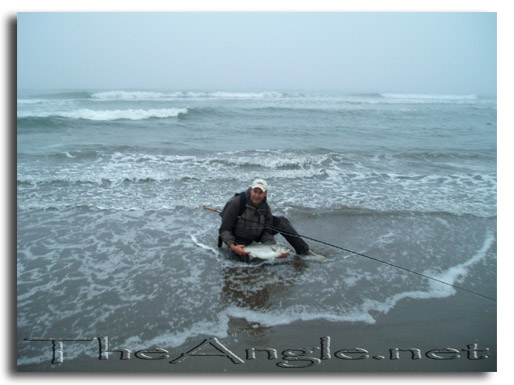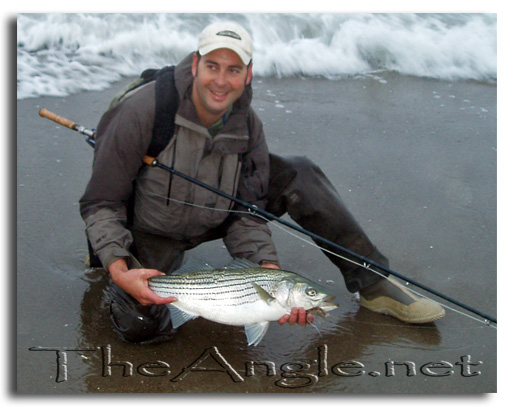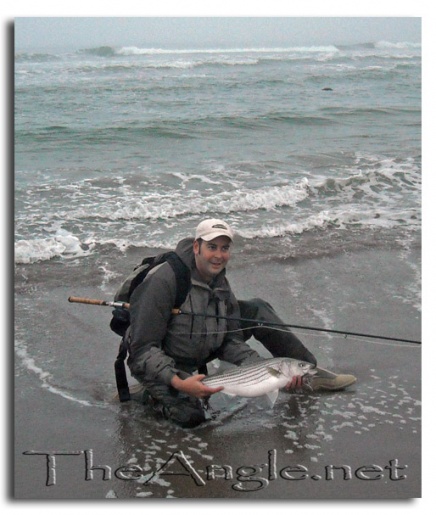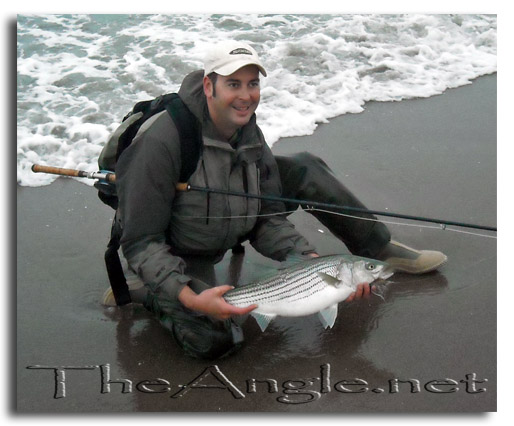 After I released the fish (face full of salt water & all… ) I went up and repeatedly thanked the guys that so kindly took the pictures (and emailed them to me later). Really cool guys, and very knowledgeable on this fishery.
We talked for a few minutes and then I told them they should take the hole because I needed to go walk off some adrenalin.
I headed further down the beach and checked-in on some other water over the next few hours until the sun burned through and then headed back to the truck.
I talked to one of the guys later (Mike) and found that he'd gotten into 3 more after I'd left.