We hit Green Riffle next but the sun was severely beating down on the water. There were a few fish smacking around on the surface though so once again I said, "top or bottom"? Jeff again answered correctly, "Top", though I may have lead him some. We covered the water quickly, triple-stepping the most of it, but didn't find anything interested in our offerings. I'm confident we could have scaled our flies down some and fished a little more aggressively but was anxious to get up to the waters around Happy Camp so headed back for the truck. On the way we did some quick "River-Left" casting lessons which I think I actually got the most out of with Jeff's help in fixing the double-kiss that had been killing both my snap-t and single spey casts.
We had a look at a lot of water on the drive up and grabbed a sandwich in Happy camp before hitting our next spot, "Doug & Dave's Run".
I took the upper half and Jeff started just above the creek mouth on the opposite side. Other than a couple of smolt/trout in the 8″ range we weren't finding anything and the upper run was faster than I'd remembered in previous years at similar flows.
I was moving pretty quickly through my stretch and was on Jeff's heels just as he announced, "Fish On"!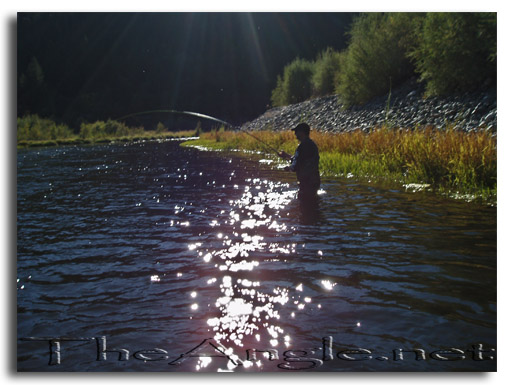 "Nice! Is it big"? Before he had an opportunity to answer the fish jumped and I quickly reeled up and made my way down.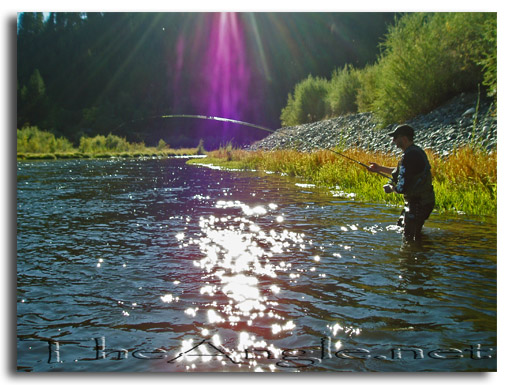 Jeff had landed his first steelhead this morning, and was already into his second this afternoon! It was short lived though and the fish came unbuttoned just as I got down river to take pictures.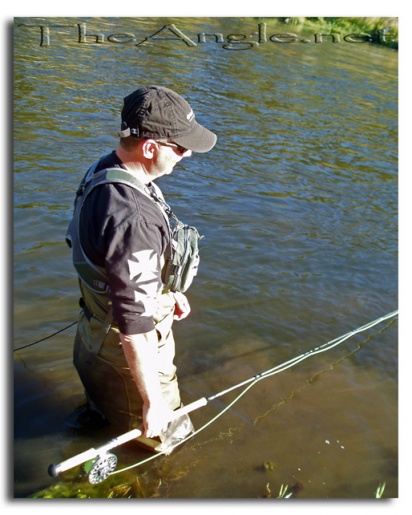 A not-so-happy Jeff
When we got back in the truck we could see salmon & steelhead rolling & splashing in the canyon above.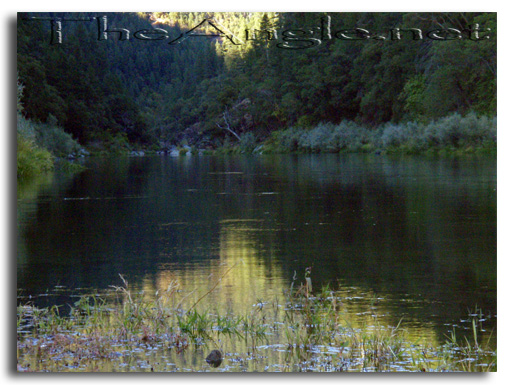 After a quick change to a floater and dry fly I made my way up the mucky bank and fished my way back to to the tail-out,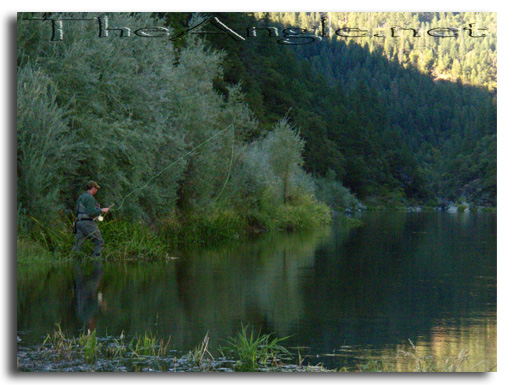 but nothing.
We made it to the next camp site with just enough light to fish through the camp water which was very disappointing. The gold dredgers had torn these 3 runs to shreds! We attempted to fish through them and got a couple of smolts but the dredge piles were snagging our flies on every cast. We did have an awesome view of a bear on the other side of the river though (just where I like them to be).
That night we had another raging inferno and celebrated another great day on the river.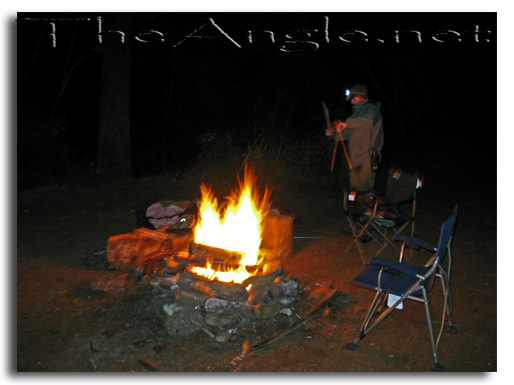 Tomorrow we fish the famed, "Doug's Shangri-la", the run that originally set the Klamath hook on me.