Jeff's broken spey rod had been repaired and returned and he was ready for Steelhead Trip number two…
We followed the same casual departure plan as last month, except this time we took a slightly different route, taking I5 & following the Trinity down for a change of scenery.
The I5 stretch went quickly as I yakked on-and-on while Jeff cranked out flies from the passenger seat – periodically responding with a gratuitous, "uh uh", or, "sure".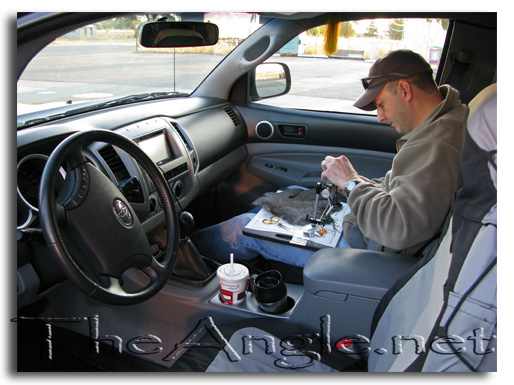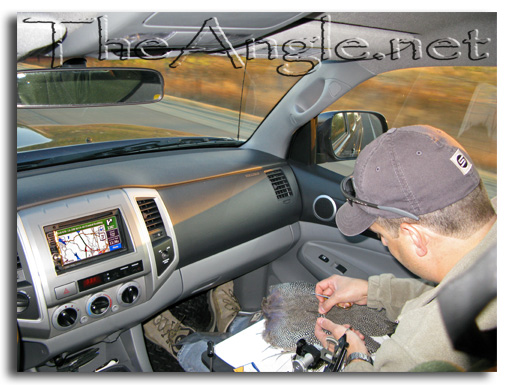 Once hitting the curvy climb on 299 just outside of Redding the vise was put away. We made the quick westward climb up to the Trinty drainage and were soon swerving downstream along side it, "There's a good looking run", "check out all the drift boats", "nice tail-out", "check out that pool", "look, a bald eagle", "more fishermen"…
We made a few stops along the way to grab some food, pick up some new radios (seeing how somebody had forgot them – in their rush to pick up Jeff), and were on my beloved Klamath right on schedule.
On our way to the campground we stopped by Brandon's Run to have a look and were disgusted to find a guide boat parked right on "The Slot" with 2 heathen gear-slingers raping my precious spot with indicators. I pulled out the camera to get a few pictures when suddenly, as if to add insult to injury, the guy in the bow hooks-up.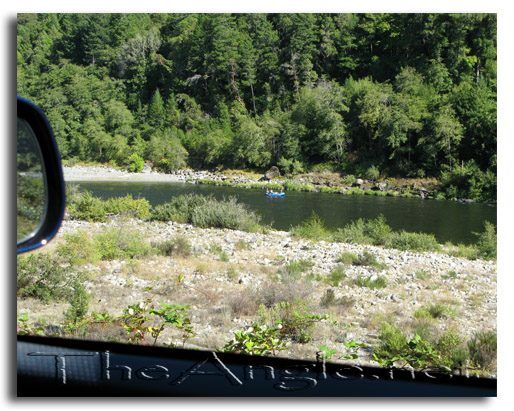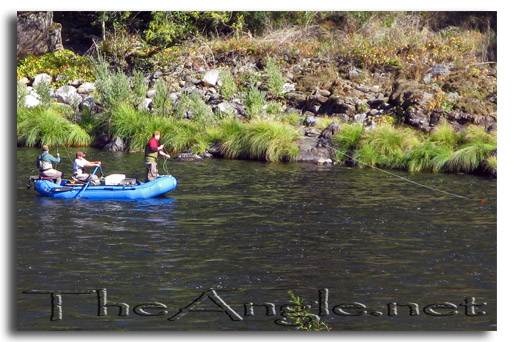 We setup camp, strung our rods, got into our waders and headed straight for Bear Run with fingers crossed that it was not occupied… and it wasn't!
The wind was howling through the canyon as the weather man had forecast and the river was up a few inches (with the "flat-rock about 1" under water) but still in great shape. I started at the top and Jeff took the lower half. Other than a few smolt taps it went pretty slowly until I got into the lower half where I hooked up with a heavy head-shaking fish that came unbuttoned just as I began making my way in to shore.
Jeff pulled out and headed up to the top and I continued working down where I got into a couple of half pounders. Their grabs were not nearly as vicious as the past few trips but they still put up a fun little tussle.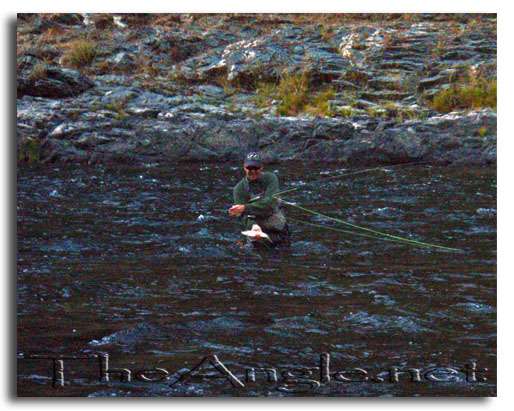 The lower section of the run continued fishing really well far beyond the spot we'd been pulling out at on previous trips. It's such an interesting run that it was hard to tell if the higher water had simply pushed "the run" further down stream or, apparently, lengthened it.
The day faded too quickly and we soon found ourselves scrambling over the rocks in the dark on our way back to the truck (which is where I really need to stop leaving my headlamp).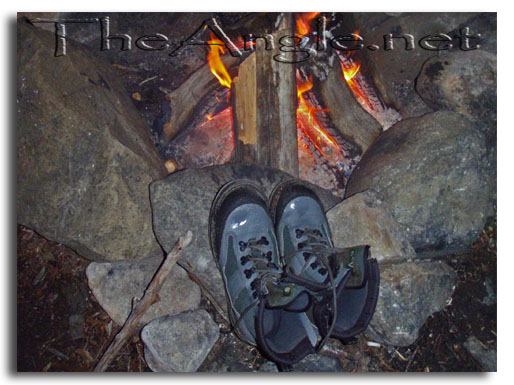 We ended the day cooking the most jacked-up looking chicken apple sausage over a very welcoming campfire and went to bed anxious to get back into Bear Run in the morning.