All I could think of the last few weeks was Bear Run and the big bright steelhead that must be working their way through it. When an opportunity came, and the urge could no longer be held back, I hit the road.
I'd timed my departure from the Bay Area perfectly, putting me in the parking area for that calling-run just as the late Saturday afternoon's sun left it to the low-light shadows of the magic hours.
Day I
I wasted no time assembling my spey rod and anxiously jumped into my waders. As I hastily made my way down to the gravel bar I heard the disturbing sound of a foreign, "Woo-Hoo"!
There they were, down river, stationed in the fat of my run, 2 Trinity guys violating my precious water with Sacramento-River-sized bobicators. Damned!
I took a seat for a few minutes to see if they were moving through the run properly or parked on their perches as seems most common with that method. It turned out to be the latter. Damned!
I scrambled back up to the truck and headed for Brandon's run. Time was short, but at least I had options. I rounded the corner, fingers crossed on the steering wheel, and sure enough, there was a car parked in the pullout and 2 spinning guys in Brandon's run. Damned!
OK, fine, down river I went. On the way in I'd seen a guy fishing Big Rock with a spey rod. He was at the top of that big run when I'd passed an hour earlier but was gone now. He couldn't have fished through the entire stretch of that long run in that short amount of time so I took that as my opportunity and started in at the midway point and was immediately hooked up with a spunky little halfpounder.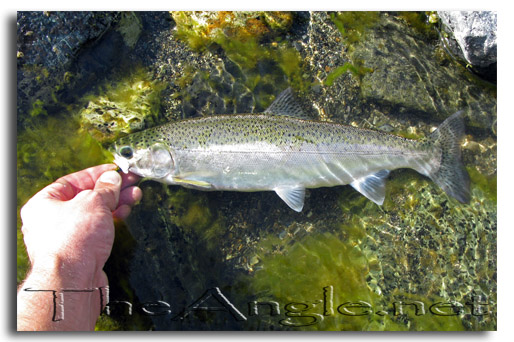 The run was pretty lively with a lot of king salmon rolling and some larger steelhead splashing around. I found a few more HP's down in the tail-out but no adults.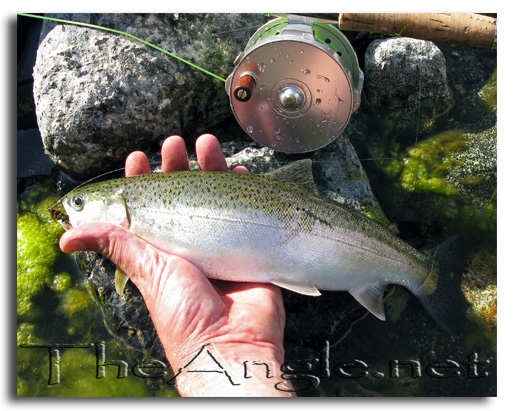 Just as the day was coming to an end an Archery hunter shot a large bear across the river about 100 yards above me. He'd hit the bear with his arrow and the bear ran into the brush. I took that as my cue to call it a day and head for camp.